Best Casino To Play This Slot for Real Money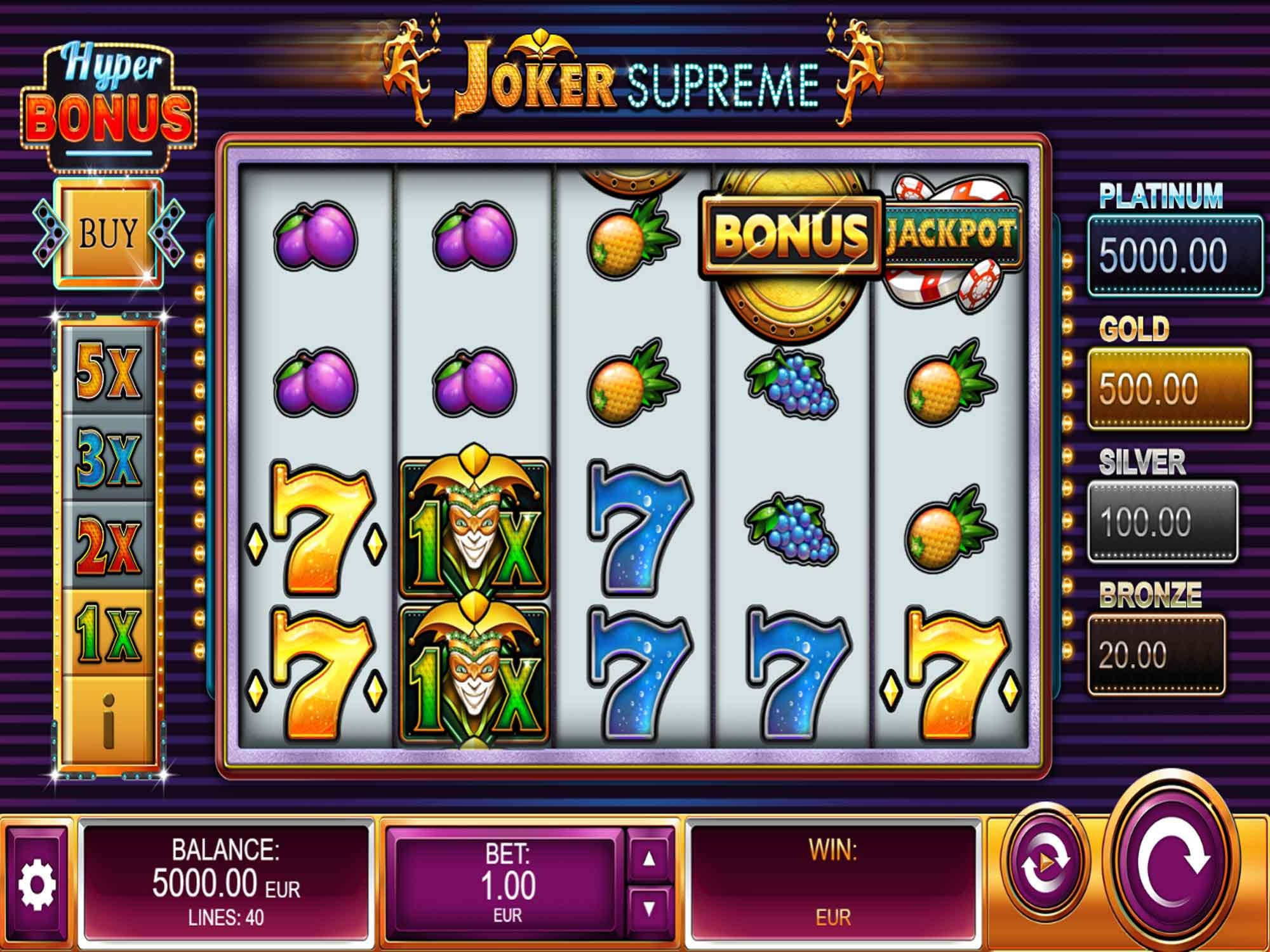 Rotate your device to start Play
Best Casinos to Play Joker Supreme for Real Money :
Despite its name which you've seen many times before, this game is not just another addition to the joker genre, but a quality game that is perhaps the best of its kind. I've come to realize that during the time I've spent playing the game, so I feel I can share my findings with you and explain why I think this slot is great.
This game is played on a 5×4 board with 40 paylines, But these basic information don't even begin to tell the story of Joker Supreme, a slot game that turns the tables and gives the player plenty of decisions to make.
Main game and paytable
If you play the normal game, you pay from €0.50 to €50 for those 40 paylines. In this case, you're playing the game without a win multiplier, and when/if you trigger the free spins game, you'll get 5 initial free spins. On the second level, you'll pay from €0.90 to €90 but will have a x2 win multiplier and 8 free spins. On the third level, your bets can range from €1.45 to €145, and you'll have a x3 win multiplier and 12 free spins. Fourth level will cost you from €2.40 to €240 per spin and will give a x5 win multiplier and a minimum of 15 free spins.
But that's not all – you can go a step beyond that and purchase the free spins right away! To immediately start playing the 15 free spins with a x5 Wild multiplier, you pay €162.50 at the base bet level (€0.50) or all the way up to €16,250.00 if your bet level is €50. You can also choose to play the other three versions of the free spins game, with a x3, x2 and x1 multiplier.
There is probably a single best option that pays better than the others, and it's likely you're getting the biggest bang for your buck if you're purchasing the free spins games, as opposed to paying big for a chance to get more free spins. Theoretical return to player (RTP) is between 93.40% and 97.21%, so there is a better and worse way to play this game.
The paytable is very skinny, as the six Fruit symbols pay from 1x to 1.50x your bet for five-of-a-kind, and it doesn't get much better with the four Seven symbols, as they pay from 3x to 6x for five-of-a-kind. The only standout symbol is the Joker, which pays up to 40x your bet.
Bonus features
The free spins are triggered when you land three Bonus Scatter symbols, and during the game you can win some more free spins by collecting Star symbols. During the free spins game, Jackpot symbols appear, and you need to land 7, 9, 12 or 14 Jackpot symbols to win the Bronze, Silver, Gold or Platinum jackpots respectively. These aren't progressive, but depend on your bet size.
Conclusion
This is an expensive game to play. If you can only afford to play with a minimum bet of €0.50 per spin, you won't be able to get the best out of this game. At the very minimum, you need to be able to purchase the best free spins game with that x5 win multiplier for €162.50 several times, so this game is only for players who can invest several thousand euros into one playing session. The other players, who just play the €0.50 spins, will get the worst version of the game without the multipliers, as there's no chance to get these unless you pay for them.
This is definitely a game for the more experienced players, who are capable of choosing the best option among those that are offered regarding your bet size and quality, who can afford a large bet, and who are well versed in playing slots that have a skinny paytable but plenty of bonus features. This isn't a slot machine for the inexperienced gambler who would only like to click the Spin button and win. In case of Joker Supreme, you need to plan and make quality decisions.
full list of Kalamba games