Best Casino To Play This Slot for Real Money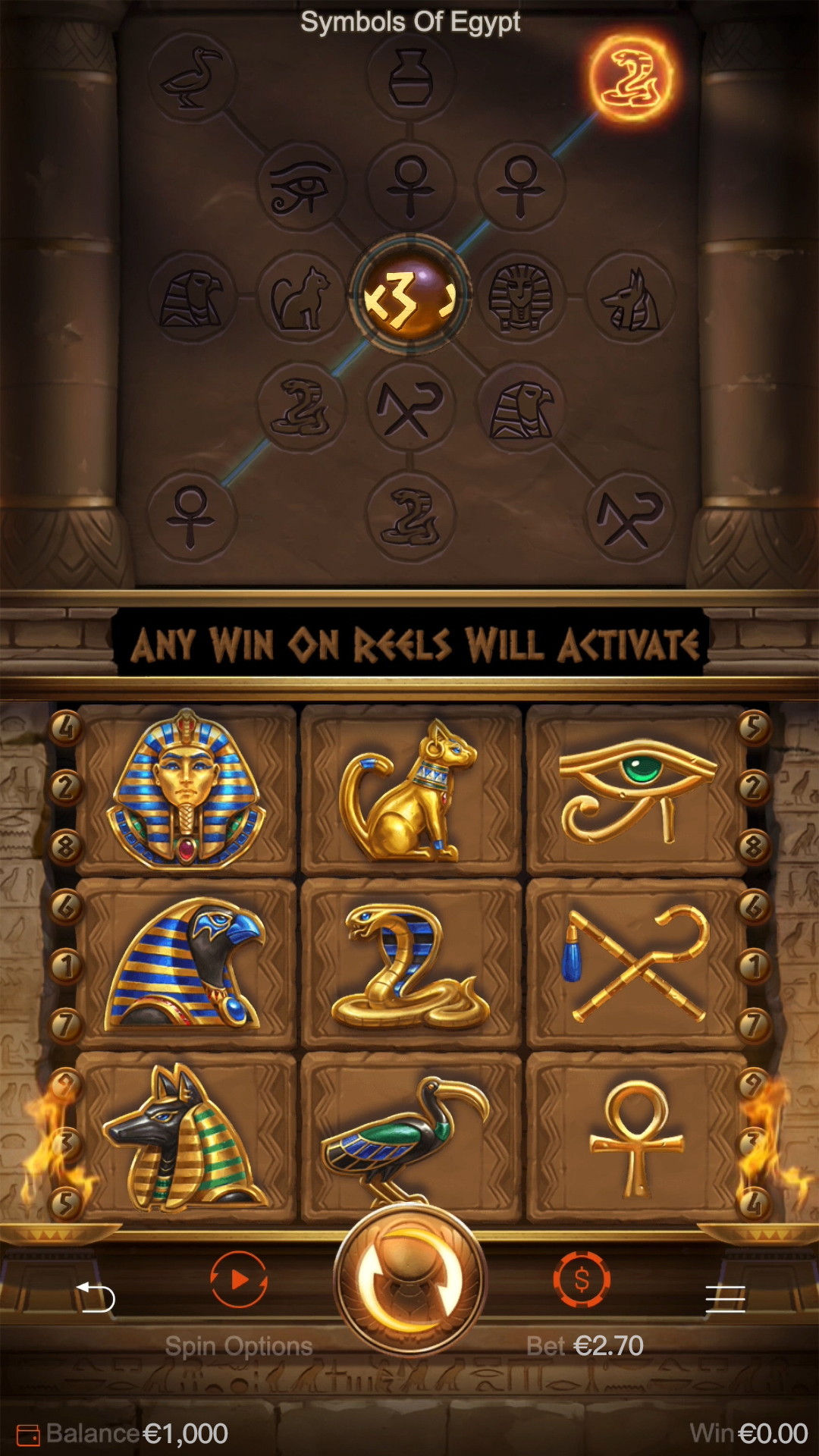 Rotate your device to start Play
Best Casinos to Play Symbols of Egypt for Real Money :
This is a standard 3×3 slot game with 9 fixed paylines, but it's a rare slot game that's designed to work in portrait mode on smartphones. The reason for this setup is that your 3×3 board occupies the bottom half of the screen, while the four-payline bonus section takes up the upper half. Even if you play on desktop, the game will still look the same. I've played it for a while on desktop and got used to the setup, learned to love it, and it's actually a really fun game in which you can win big. Let's go over the details of this PG Soft slot game.
Main game and paytable
The way to calculate wins is to take the bet per spin, divide it by 9, and then multiply it by the coin win shown in the paytable. A bet of €1.08 will have a bet per payline €0.12, and with a 5 coin win the total win will be €0.60 or 0.55x your total bet. The maximum win on one payline in this game is 30 coins, so that's roughly 3.33x your total bet. If you'd get a full board win of the best symbol, the Pharaoh, you'd win 30x your bet. Choose your bet carefully as the bonus section of the screen is reset on any bet change.
Horus is the second-best symbol, with a 20 coin prize, and Anubis pays 15 coins, same as the Cat symbol. Two more symbols pay 9 coins, two pay 5 coins, and finally the last two symbols pay 3 and 2 coin prizes. This means that of 10 symbols in the paytable, only four will even get you your stake back, and only two will win you some money on a single payline win. However, there's a reason why the paytable is so skinny, and that's the bonus features. There is also a Wild symbol that helps a lot. It only appears on reel 2.
Bonus features
Above your reels there are 16 positions with random symbols. Every time you land a win that corresponds to the symbol there, it will light up and will stay that way. Your job is to land enough wins of correct symbols to complete a four-symbol payline, and there are four paylines. When you complete that payline, a random win multiplier will be applied to your board win, and it can range from x2 to x30. If at the same time you completed multiple winning paylines, you'll get an additional win multiplier, and the value will add up. So if you get x3 and x5, that's x8. In theory, the biggest multiplier you can get is x120, if you'd complete all four winning paylines and would land a x30 win multiplier on each. But that's a stretch. Let's say the maximum multiplier you can normally expect is x30. And that's plenty.
Symbols of Egypt Slots RTP
Theoretical return to player (RTP) is only 95.71%, which may seem a bit low. However, this game does have high variance and a chance to really win huge amounts of money, as a full board win of Pharaoh would be worth 30x your bet, and then there's a remote chance you might complete one of four paylines above your board with that win, and then you can win up to x30 win multiplier, which would mean you'd win 900x your bet. This is, of course, rare, but the chance to win that much is present in this slot game. And despite the relatively low RTP, it's worth playing this slot game for real money if you're into high variance slots that can pay big.
Conclusion
There aren't that many three-reel slots with Egyptian themes so if you're a fan of both of these things, you'll like Symbols of Egypt. It's a quality three-reel slot in which you can really win big, as that x30 win multiplier is very tempting. While there's a lot of variance to what kind of win will it multiply, at the very least you're certain it will multiply something. Even with the lowest possible win, you'd still win 10x your bet. This is a great game for high variance players, and it should be played for real money.
full list of Pocket Games Soft games