Best Casino To Play This Slot for Real Money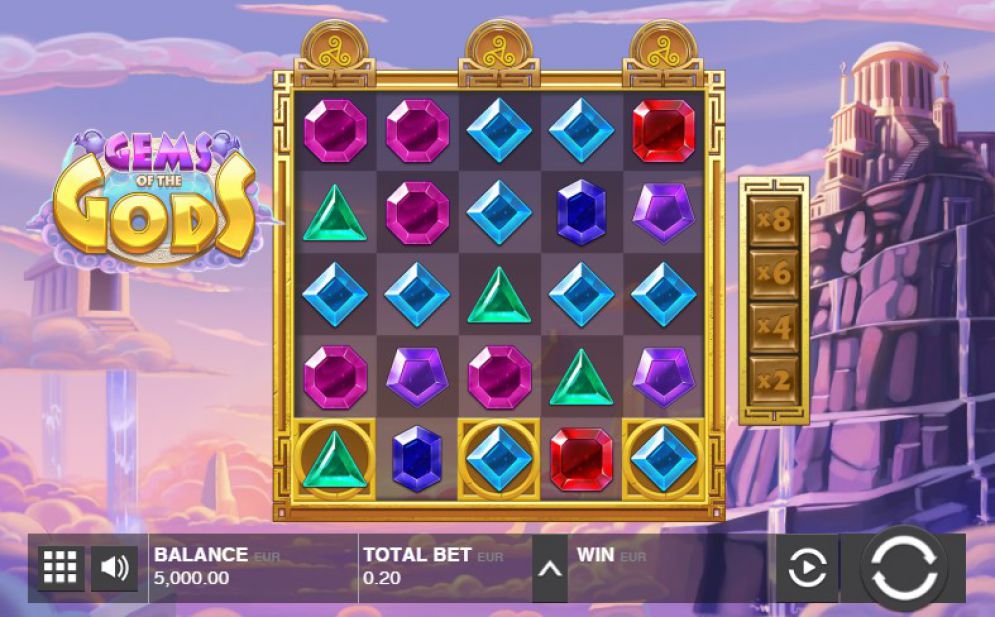 Rotate your device to start Play
Best Casinos to Play Gems of the Gods for Real Money :
Gems of the Gods is themed around Greek mythology so I enjoyed playing it as I'm a fan of the genre, and I like falling blocks games too. So let us go through pros and cons of this Push Gaming slot machine that looks like a slot game version of Candy Crush.
Theoretical return to player (RTP) is 96.55%, which is good enough, and you can make money on Gems of the Gods if you're lucky with the consecutive wins on your 5×5 board where after the winning symbols explode no new symbols show up. Variance seems to be medium, perhaps a bit high as you need to wait for a decent win for a while. Most big wins in this game will come from the Free Games Feature, which is somewhat difficult to trigger.
Main game and paytable
The game is played on a 5×5 board, and wins are formed when you get three or more symbols either horizontally or vertically adjacent. No clusters are being formed, your win can either be fully horizontal or fully vertical. All winning symbols will explode, and the ones that are above will fall down, but won't be replaced by new ones, which means it's getting progressively more difficult to get multiple wins on the same spin. With each new win on the same spin the win multiplier increases, it first goes to x2, then x4, then x6 and finally x8 after four consecutive wins.
There are only six symbols in the paytable, and none of them pay well for landing three-of-a-kind. In all cases you'll get less than your bet, and the maximum possible win is 0.50x your bet. It gets better with four-of-a-kind though the lower-paying symbols will still pay too little, and you can win up to 2.50x. Five-of-a-kind will award up to 25x your bet, and six-of-a-kind, only possible during the Free Games feature, will go up to 50x. This kind of paytable makes it difficult to win unless you can form many big winning combinations on the same spin.
The Lightning symbol often comes to aid. Whenever it appears on the board, the Lightning Feature is triggered. It will transform all instances of one symbol into one of the other Gem symbols, which will usually result with many winning combinations. There is also a Wild symbol which can substitute for all six Gems. There are two groups of Gems, the ones with a red hue – Violet, Pink and Red – being the high-value symbols, while the ones with a green hue – Green, Light Blue and Dark Blue – being the low-value symbols.
Bonus features
There are three Coins sitting above reels 1, 3 and 5. These will fall down as you start clearing the symbols on the 5×5 board, and the ultimate goal is to have at least one Coin reach the bottom of the board. In that case, the Free Games feature is triggered. Any Coin that makes it all the way to the bottom of the board will transform into a Wild Coin symbol, and will stay there for the duration of the feature.
Conclusion
Gems of the Gods is a good falling blocks game and most fans of the genre will enjoy it, though some will resent the fact that true clusters can't be formed and that only horizontal or vertical clusters apply. However, the prospect of clearing reel 1, 3 or 5 in its entirety to win the Free Games feature is good enough to keep you interested in this game. The game pays well, and it deserves a few spins, but the average slot players who aren't used to this type of game will likely want to stay away. Fans of Candy Crush and similar games will adore this one though.
full list of Push Gaming games