Best Casino To Play This Slot for Real Money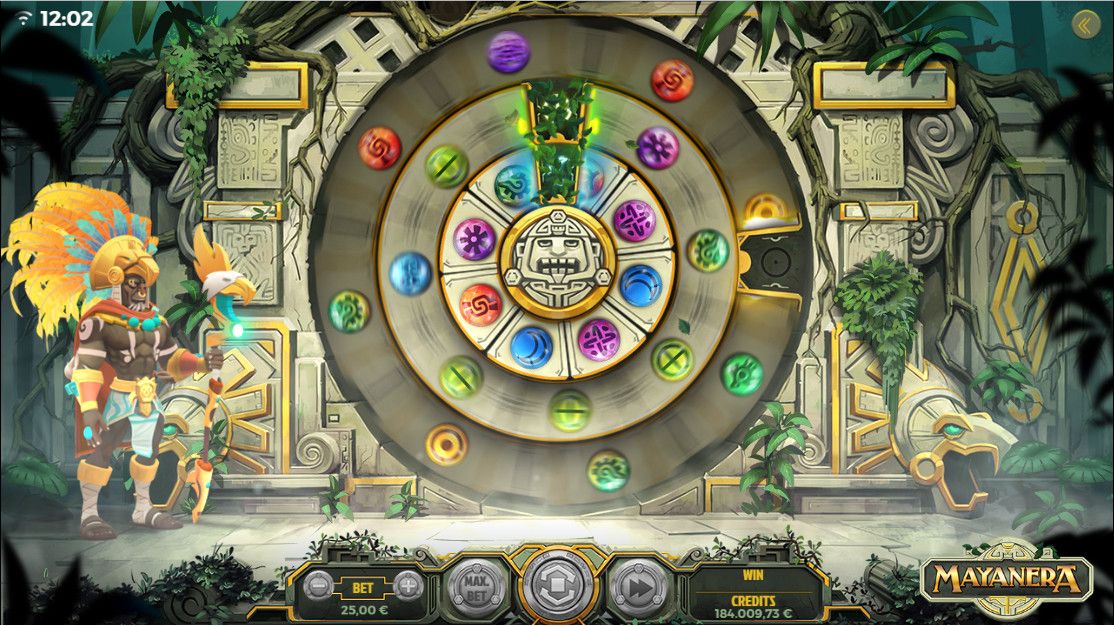 Rotate your device to start Play
Best Casinos to Play Mayanera for Real Money :
Mayanera is a slot game that uses wheels instead of reels, which means wins are counted differently and this setup also makes possible some special bonus features. This innovative game won't be anyone's cup of tea, and in this review we'll go over the pros and cons of this game so you can see if you should play it or not.
Main game and paytable
The game is different than other slot games that use reels, as this one uses three wheels that spin together to produce wins, and each wheel has 8 symbols for a total of 24. The win is awarded either when one wheel has three same symbols one after another, or when all three wheels stop so they form a cross line of three same symbols. Most wins will be three-of-a-kind, but up to eight-of-a-kind wins are possible, and for that you'd need one wheel to display eight of the same symbol.
You will choose your bet as a cash value, from €0.10 to €40, but you're actually betting 10 coins. With a three-of-a-kind win you will usually get only 1 coin back, as four symbols will pay that, while the remaining four will pay 3, 5, 10 and 15 coins respectively. Prizes can go up to 1000 coins, or 100x your bet, but anything above three-of-a-kind is very rare. The paytable is incredibly skinny as even a rare five-of-a-kind win can pay 50 coins at best.
Each wheel has a progress indicator, and the indicator will move around until it completes a full circle. When all three do complete their eight steps, you'll be awarded with a bonus game. This means this is one of those games in which triggering the bonus game isn't a matter of luck but you can accurately predict when you'll trigger the bonus game.
Bonus features
Before you start the free spins, you'll play a small bonus game that will determine a coin win, the number of free spins and the multiplier. Only the win multiplier will make a difference, as other than that they would just be spins that are free. You can win from 5 to 20 free spins with a win multiplier between x2 and x13 inclusive.
Two features can get triggered in the base game. Nudge is activated when there's no win on your wheels but there's a chance of a win if one of the wheels would nudge one step forward or back. Time Warp is also a feature that can get activated on non-winning spins, and you get one re-spin.
Mayanera Slots RTP
Theoretical return to player (RTP) is 94.78%, which is just a bit short of 95% and is barely enough to take this game seriously. You will feel the RTP is a bit lower than you'd be comfortable with, and this is particularly noticeable in the free spins game that pays less than expected, unless you manage to get that huge win multiplier. The base game can in theory produce eight-of-a-kind wins, but this is very rare. In short, this is a high variance game as you need a lot of luck to get anything above the basic wins.
Conclusion
Mayanera is a very high variance slot although it may seem like a fun easy going game, which it is not. It's difficult to play and you need a long playing session to have a chance to make this game pay its largest prizes. Without luck in that regard, it's difficult to make money as the slot game is tight as a default, and only loosens up every now and then. Play the game yourself and see how it feels, if for no other reason then to see this innovative three-wheel concept in action.
full list of Spinmatic games