Best Casino To Play This Slot for Real Money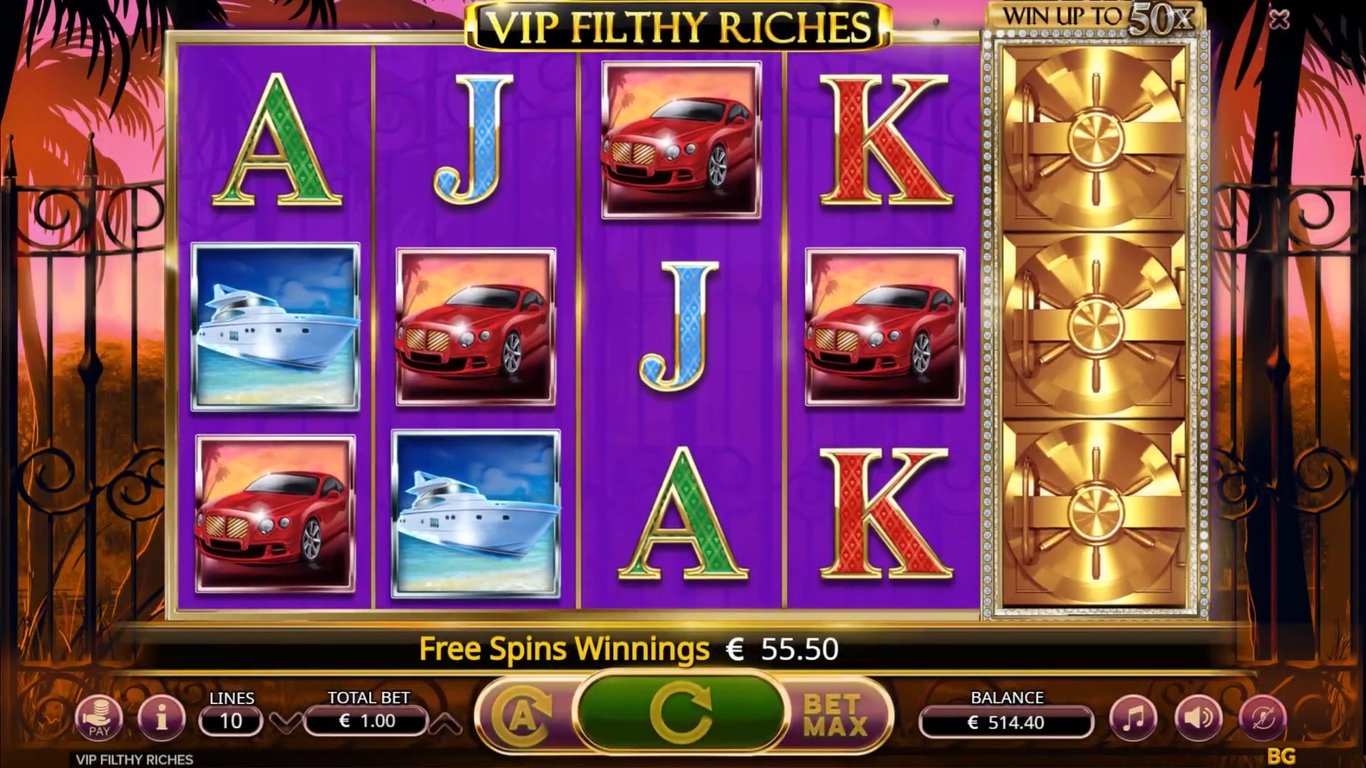 Rotate your device to start Play
Best Casinos to Play VIP Filthy Riches for Real Money :
I've played VIP Filthy Riches for a few hours for the purposes of this review, and I can tell you straight away that I like this slot game. I feel it can pay well, especially during the free spins game, and its high variance is good for you as there's a chance to win 400x your bet or even more than that if you get multiple winning paylines. Sadly, the theoretical return to player (RTP) isn't revealed by the developer, but we may assume the slot game is paying well.
Main game and paytable
VIP Filthy Riches is different than the vast majority of slot games as it's only possible to land a four-of-a-kind win. This is so because the fifth reel is totally taken over by the win multipliers, and normal symbols can't land there. There are only seven symbols in the paytable, and four of these are card symbols which will either give you a good portion of your stake back or will give you a small profit in case you land four-of-a-kind. The three main symbols, Car, Yacht and Private Jet, pay 3x, 4x and 8x your bet for four-of-a-kind respectively, and the prizes for three-of-a-kind aren't bad either, 1.5x, 2x and 4x your bet respectively.
It may seem this is a low value paytable but it's actually quite good when you consider that the prizes we're talking about are for three- and four-of-a-kind, and that all wins can be multiplied. This game is pleasant to play as it's issuing wins often enough, and they're of decent quality.
Bonus features
Whenever you land a four-of-a-kind win in the main game or in the free spins game, the multiplier reel will get activated and will award you a multiplier of 2x, 3x, 4x, 5x, 7x, 10x, 20x or whopping 50x. Since the 1x win multiplier is impossible to get, this means that no four-of-a-kind win will pay as much as the paytable says it will – it will pay at least double. So the minimum prizes in case of three high-win symbols are 6x, 8x and 16x respectively, and this can go up to 150x, 200x and 400x respectively. Variance is high, of course, but this game can really pay a 400x win on a single winning payline if you're lucky.
When you land three Scatters on your reels you'll get 3 Major Free Spins, and if you land all four Scatters you'll get 7 Major Free Spins. During this feature, only the three high-win symbols will appear on your reels, and they'll also be stacked in sets of two or three. Wilds and Scatters may appear also. What this means is that your chance of landing a big win will go through the roof during the feature, especially if you get 7 spins. Remember, win multipliers will apply for every four-of-a-kind win, and you can really win big in the free spins game in VIP Filthy Riches slot.
Conclusion
VIP Filthy Riches would be even more recommended if we knew what the RTP is, but the game feels as if it's paying adequately. Booming Games never go under 95% RTP, and sometimes create titles with RTP of over 97%, so we're probably playing a slot game that pays well here. The chance of landing a big win is present, and that big win is perhaps easier to get than in other slots, since you only need to land four of the same symbol here and then have luck with the win multiplier. The game mechanics of VIP Filthy Riches are awesome, and if you get to the free spins game with 7 free spins, you'll see lots of winning paylines and lots of win multipliers. This is a quality slot game that can really pay well.
full list of Booming Games games