Best Casino To Play This Slot for Real Money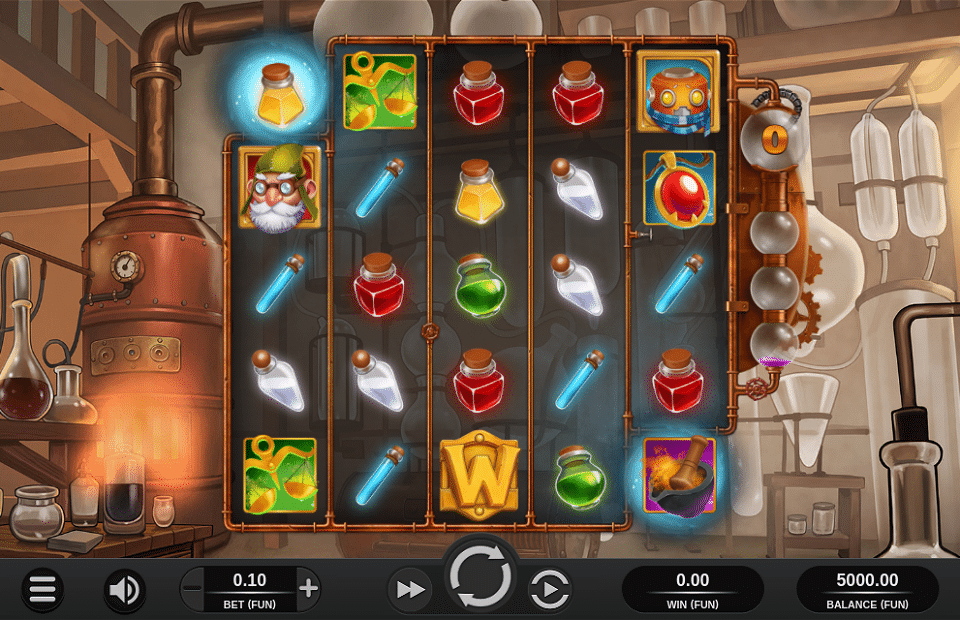 Rotate your device to start Play
Best Casinos to Play Wildchemy for Real Money :
Wildchemy could be one of the best falling blocks games out there, and it didn't take me too long to reach this conclusion although I did play the game for several hours for the purposes of this review. The game is very friendly and easy to play, and the bonus features keep you interested. Let's go through the details of this excellent slot game to see what's it all about.
Main game and paytable
The game is played on a 5×5 board, and any horizontal or vertical line of three symbols in a row, regardless of where they start from, is considered a winning combination. Every win will explode and new symbols will fall from above to replace the ones that exploded. This is called a cascade, and can go on for quite a while – for as long as you keep getting new wins.
There are ten symbols in the paytable, plus a Wild and a Scatter, and as many as eight of them can be considered to belong in the low-win group as they pay from 2 to 7.5 coins for five-of-a-kind. Only the two top symbols stand out, as they pay 15 and 50 coins respectively. Although this paytable may appear skinny to some, it is in fact a decent one since you'll be getting many winning paylines on one spin, and these two top symbols are just an added bonus.
Bonus features
The top left corner and the bottom right corner of the board are Portals, and are the most important positions on the board. If the same symbol lands on both Portals, then those symbols, as well as any other instances of that symbol presently on the board, will transform into Wilds. If you'd happen to land two Wilds in the Portals, no transformation would be triggered. When you do get your symbols transformed into Wilds and they generate wins, they'll explode before the next cascade begins, so you'd have a new chance of landing two same symbols in your Portals. Even the Wilds that weren't part of a winning combination will explode; it's impossible to have a Wild stick for the next cascade.
A series of cascades is considered one spin, and Scatters are collected throughout that sequence. You need to collect four Scatters to trigger the free spins game, and every time you land a Scatter it will explode the neighbouring symbols in a cross pattern and will therefore initiate a new cascade. During the free spins, all wins are doubled, and you'll have an additional Portal in the top right corner. Only two of the three symbols in Portals need to match to trigger the Wild transformation.
Wildchemy Slots RTP
Theoretical return to player (RTP) is 96.02%, which is good enough, and this game is set up in a way that will have you wondering how is it possible to constantly win. It's quite possible your balance will be positive for a long time, as this game pays well and is also easy to play. Variance seems to be medium, perhaps even a bit low.
Conclusion
Wildchemy is a perfect slot game for players who just want to play without worrying too much about variance, coins, strategy, or whatever. This game is nice to you regardless of your strategy and pays often enough to keep your balance healthy, so you might as well play it for real money as that makes it much more fun than the demo mode. Bear in mind that this is one of the rare falling blocks games that also gives you free spins.
full list of Relax Gaming games