Best Casino To Play This Slot for Real Money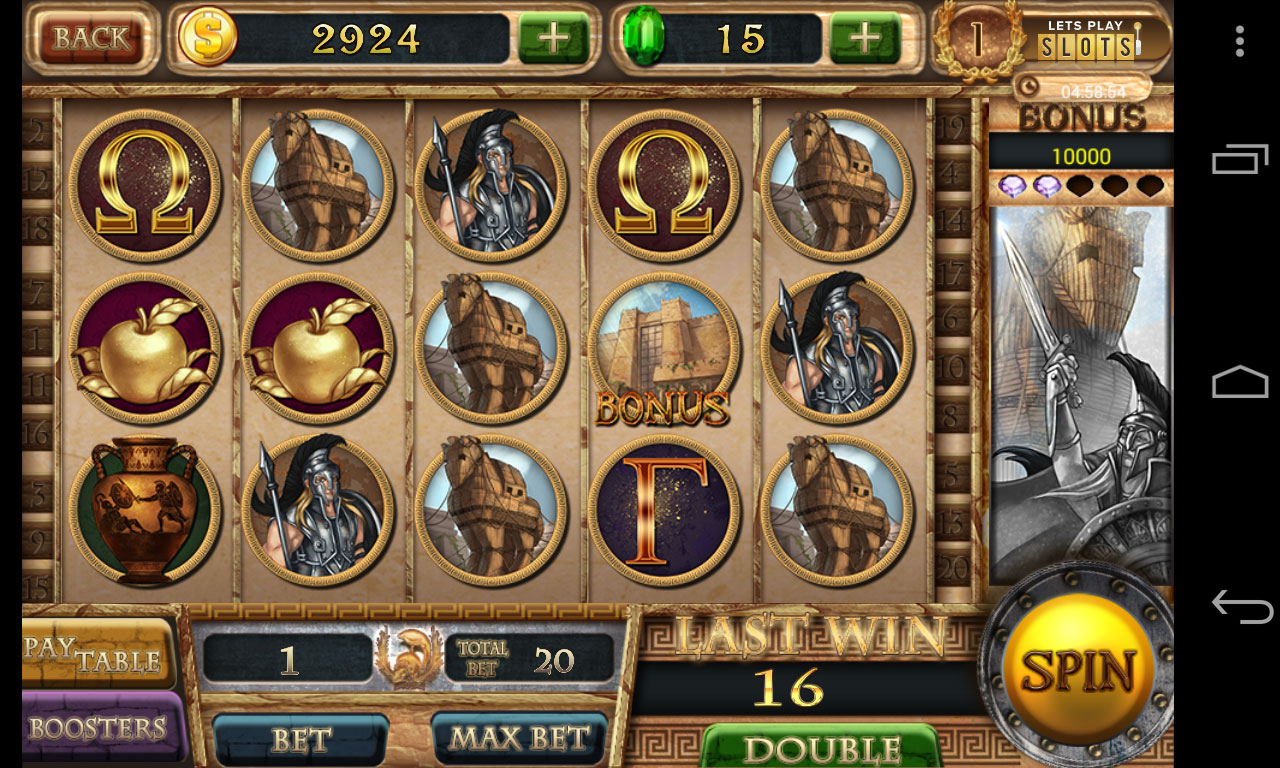 Rotate your device to start Play
Best Casinos to Play Achilles for Real Money :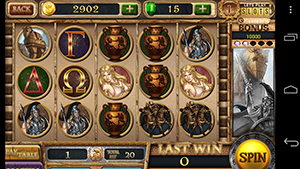 Achilles is a classic slot game, one of the best of its kind, as it provides all the necessary ingredients classic slot players love and then does it better than almost all other slots. Achilles uses a standard 5×3 board and 20 paylines, and the paylines are selectable from 1 to 20 so a player can directly affect the variance of the game. Theoretical return to player (RTP) is very high, 97.50%, so this also makes Achilles one of the best-paying classic slots. I've found variance to be medium as the game pays often even though it's a classic slot. The game is therefore easy to play. The Spin/Stop buttons can be clicked very fast, with several spins per seconds a real possibility in Achilles.
Graphics are good for a classic slot, and while all the usual guidelines for classic slots are followed, the game somehow looks better than most other slots of the genre. Animations are smooth, symbols look good, and overall the game can be enjoyable even by those players who don't like classic slot graphics.
Main game and paytable
The paytable consists of ten symbols, and only two are worth something. Trojan Horse and Helen will pay 1250 and 5000 coins for five-of-a-kind respectively. The two medium-paying symbols aren't really worth much, and the six low-paying card symbols are worthless. In addition to these ten symbols there's also a Wild symbol, a paying one, with a 10,000 coin prize if you land five. Troy is the Scatter symbol that triggers the free spins game. In essence, there are four symbols to look forward to and all are easily visible on the reels: Trojan Horse and Helen as high-pay symbols, Achilles and Troy as the symbols that trigger the free spins game.
Achilles is a penny slot as only one line can be played for $0.01, and the minimum bet to cover all paylines is therefore $0.20, while the maximum possible bet on one spin is $100. This allows for a great range of different bets, which then also allows for use of betting strategies.
Bonus features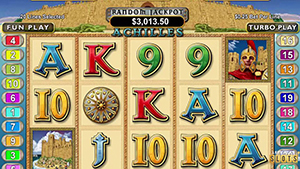 The free spins game can be triggered in one of two ways, which is unique among slots. If you land three Scatter symbols you'll trigger the free spins game, with 10 free spins and doubled prizes. If, however, you land three Achilles Wild symbols anywhere on your reels, you'll get to click one of those symbols to reveal 15, 20 or 25 free spins with tripled prizes, and all Troy Scatter symbols are changed to either Achilles or Helen. It was fun for me to see two different versions of the free spins game that are triggered in two different ways, and of course the one with tripled prizes is far more rewarding, but you won't mind the 10 free spins that the Scatters triggered, either. That would be a worse version of the free spins game but it will still deliver some cash.
Achilles is a progressive jackpot game with 1.5% of RTP contributing to the jackpot, and since it's an older game the jackpot isn't that big these days. It can only go up to several thousand, and the jackpot can be won randomly after any spin. You can see the current jackpot value above your reels.
Conclusion
Achilles is a great slot game, one of the legendary ones, as it does everything right. It has high RTP, it can be played insanely fast, the free spins game is rewarding and there's another version of it, and finally there's the progressive jackpot which isn't big these days but is still good enough. Many players, myself included, turn to this slot whenever they don't have a clue which slot to play next. Achilles never disappoints and is therefore a good choice at any time despite the 2006 release date. Theoretical payout of 97.50% is just outstanding for a classic slot.
full list of Realtime Gaming games