Best Casino To Play This Slot for Real Money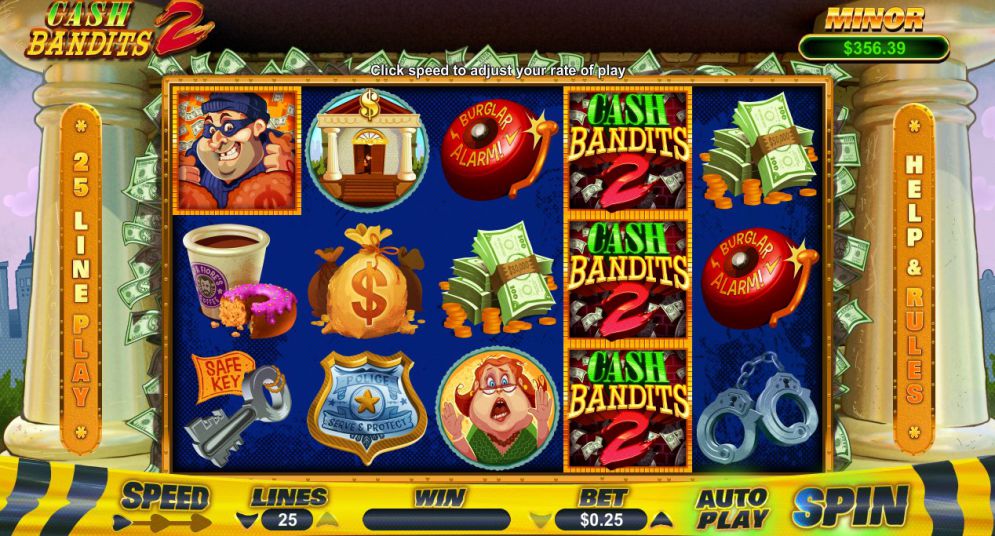 Rotate your device to start Play
Best Casinos to Play Cash Bandits 2 for Real Money :
Cash Bandits 2 is a 2017 sequel to the very popular 2015 game, and I have played it since it was released, so I can give an objective opinion about this Realtime Gaming title. The main question is, of course, if this slot machine is better than the original. For the most part, it is. While in the 2015 game the maximum number of free spins was 90, with an x12 win multiplier, now Realtime Gaming take it even further, with 190 free spins with a x17 win multiplier.
The game offers a chance of getting incredible wins during the free spins feature with up to 190 free spins, and a progressive jackpot that can be won anytime. The theoretical return to player (RTP) is believed to be around 95% as Realtime Gaming didn't officially confirm the number, and a portion of that contributes to the jackpot so this game isn't expected to pay well. Yet it feels like it does,because wins are common and your balance doesn't go too deep into negative, yet its high variance can bring some spectacular wins.
Main game and paytable
There are eleven symbols in the paytable plus two special symbols, for a total of thirteen. The paytable is balanced and gradually progresses from low to high wins, so there are a lot of symbols that are actually usable. The three main symbols – Cop, Freightened Woman, and Bank – pay decent prizes of 2000, 1500 and 1000 coins respectively for five-of-a-kind. The game uses 25 paylines on a standard 5×3 board so all players will be familiar with the setup. The paylines are selectable so you may choose only 1 if you wish, with a $0.01 bet per payline minimum, making this a penny slot. The maximum allowed bet per spin is $125.
I liked the theme a lot as it features cartoon characters that depict every aspect of a robbery. You got Cops, Robbers, screaming Women, Burglar Alarms, Cash, Safe Keys, Police Badges, Donuts and Coffee, and Handcuffs. This is an over the top theme that makes the slot game very fun to play.
Bonus features
The bonus round in this game consists of you triggering it, after which you'll start unlocking Vaults, and can win up to 190 free spins with a x17 multiplier, after which the free spins game plays out.
First you need to land three or more Robber Scatters anywhere on your reels, and you'll enter the Vault. Five Vaults will be presented and a keypad for typing in the numbers is on the left. Depending on the number of Scatters you can have from five to eight attempts, and each Vault requires a different 1, 2, 3, 4 or 5 numbers to unlock. To open the worst Vault you therefore need to guess only one number correctly, and for the best one you'll need to guess five – from either five, six or eight attempts.
The five Vaults award 5, 10, 20, 50 and 100 free spins, and they also increase the win multiplier by x1, x2, x3, x4 or x5 respectively. If you open all five Vaults, you'd therefore get 190 free spins with a x17 multiplier, which is incredible value and a rarely seen sight in online slots. This is actually a better feature than the progressive jackpot, which can be won after any bet and any spin.
Conclusion
Cash Bandits 2 is a modern classic slot with a very tense feature in which you're unlocking the Vaults to get those dozens of free spins and large multipliers. It's an excellent slot game by anyone's standard and will be enjoyed even by players who don't usually play classic slots because unlocking Vaults is so much fun. The theoretical payout may be a slight concern but the game doesn't pay worse than other Realtime Gaming slots, and can really provide huge wins. Play it and see for yourself.
full list of Realtime Gaming games