Best Casino To Play This Slot for Real Money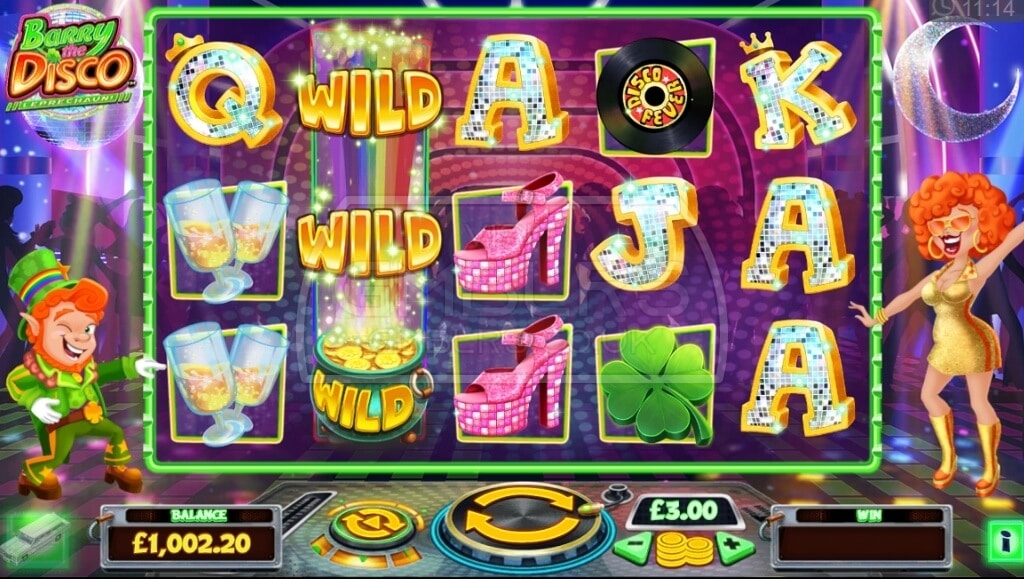 Rotate your device to start Play
Best Casinos to Play Barry the Disco Leprechaun for Real Money :
Barry the Disco Leprechaun is a seemingly standard slot game, as it has a 5×3 board, but it's anything but a normal slot, since not only it has a ridiculous theme and many interesting bonus features, but it also includes gamification elements that are rare in slot games – Barry will have different outfits and will visit different clubs.
Main game and paytable
The game is played on a 5×3 board which barely resembles reels, as the theme is so colorful that you're paying much more attention to the Leprechaun and the Girl that are dancing beside your reels. The symbols land the same way they always do, but you just don't see this as reels. Symbols are huge, too, as the reels use up almost the entire screen of your device.
The paytable consists of nine normal symbols, four of which are high-win symbols. Clover is the best-paying symbol in the game, as Wild and Scatter are non-paying symbols, and it will pay 200 coins for five-of-a-kind but only 50 coins for four-of-a-kind, indicating that in this game only the full payline wins are worth something. It gets even worse with the other three high-win symbols, as they all pay 80 coins for five- and 25 coins for four-of-a-kind, which is awful on a 30-coin game. The five card symbols aren't even worth a mention.
This game is all about bonus features, which help make this poor paytable work.
Bonus features
Expanding Wild is the most common bonus feature in the game as it will happen every time a Wild lands. It will drop to the bottom of the reel and then expand upwards to fill the entire reel, and after it does its little routine, you'll get a Drama Reel Respin with the Wild reel held.
Scatters trigger the Disco Fever Bonus Feature. You need three Scatters, but if you land only two, the reels without the Scatter symbol will automatically re-spin and you'll get second chance to land that final Scatter. If you land more than three Scatters, then you'll have 1 extra free spin for each additional Scatter.
You will first have to play a bonus feature before you earn some free spins. You'll be racing against a 60-second timer, and it's a skill game – you have to tap or click the colored buttons to match the same colored musical notes as they pass the bottom line. This will fill up the Disco Fever Meter and will give you your free spins. The free spins game isn't anything special, other than the spins being free, and you can get some more free spins as you land the Free Spins symbols during the feature.
Every time you finish the Disco Fever Bonus Feature you'll unlock a new outfit for Barry. There are 5 you can collect. Also, every time you finish the free spins game you'll unlock the new club, and each one is different with its own special vibe and disco tunes.
Barry the Disco Leprechaun Slots RTP
Theoretical return to player (RTP) of Barry the Disco Leprechaun is 96.26%, which is pretty good, and you should rest assured that this game can be played in long playing sessions without losing too much money. Variance is a bit high.
Conclusion
Most players seem to be interested in Barry the Disco Leprechaun, but don't spend too much time playing this slot game before they move onto the next. This is alright – Barry wants to cheer you up so you have some fun with this slot game, and that's likely exactly what will happen when you find a Leander Games casino and play Barry the Disco Leprechaun for real money. It's a quality slot game, it's just that you likely won't be able to endure the disco theme several days in a row.
full list of Leander games