Best Casino To Play This Slot for Real Money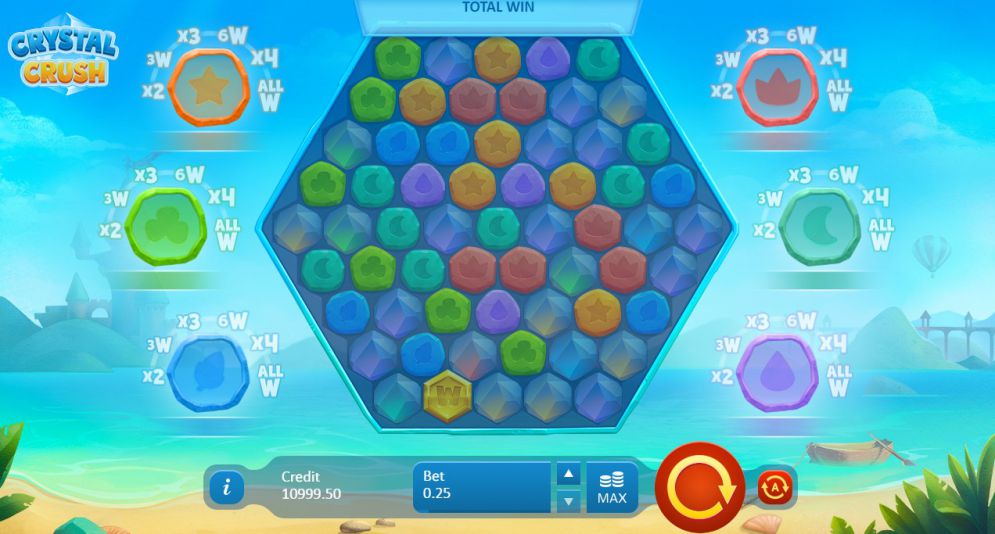 Rotate your device to start Play
Best Casinos to Play Crystal Crush for Real Money :
This game is for Candy Crush fans, and it gives these players what they need in a very innovative way. I have played this game for a while, so I can give you an opinion about the pros and cons of this game, and tell you if you should play it or not. Be prepared that this game is a bit out of the ordinary, and it actually doesn't resemble a slot machine at all.
Main game and paytable
This game is much different than any other, even the other slots in this genre, as it doesn't have any reels or paylines, and instead you see an area that consists of 61 symbols. You need to have at least 5 consecutive symbols that are adjacent to each other, in any direction, shape or form. It usually looks like a snake that goes one way or the other, and basically the only requirement is that the snake isn't interrupted. Winning symbols disappear, and symbols fall down to fill the empty cells.
There are six different symbols, and they are almost worthless when you land a win that includes 5 symbols only, and it will take a winning line of at least seven symbols to give you your stake back. For nine or more symbols, the wins range from 2.40x to 6.40x your bet, depending on the symbol. There is also a Wild, and symbols can be crystallized, in which case they don't pay, but they fill the progress bar instead. To crush a crystallized symbol, you need to land a winning line adjacent to it.
Bonus features
There are six levels of bonuses for each symbol. Level one is a x2 win multiplier, and on level two up to three random symbols will turn Wild. On level three, you'll get a x3 win multiplier, and on level four up to six random symbols will turn Wild. Level five gives you a x4 win multiplier, and on level six, all symbols of the same color will turn Wild. Progress for each symbol ends when there are no new winning lines formed, so on every new spin you're reset to zero. This kind of progressive game means it's possible to really win big, but it will happen rarely, as you need a long sequence of wins to get the best possible bonuses. Until you do that, you won't make money in this slot game as the wins without the bonuses are really minimal. This makes Crystal Crush a high variance game. It may seem like you'll never advance through the bonus levels as most spins are non-winning ones or the sequence stops quickly, but once you start landing those Wilds the sequence is more likely to continue than to end prematurely.
On any non-winning spin, the Crystal Crush Feature can get activated randomly, and it will choose a random symbol and then advance two levels through its bonuses.
Conclusion
Crystal Crush is a high variance game that will appeal only to fans of Candy Crush and similar games as well as similar slot games. Some will love it and some will hate it, but it's a fact that this game can pay huge wins if you reach bonus level six on one or more symbols, especially as the game can keep going when you start landing those Wilds. The game can indeed pay well, and it's too bad that we don't know the actual payout level of this slot game. In any case, fans of the genre should definitely try this slot out, as it does things in an innovative way, and it's fun to play, too. Just remember you need a lot of patience as this game requires longer playing sessions.
full list of Playson games