Best Casino To Play This Slot for Real Money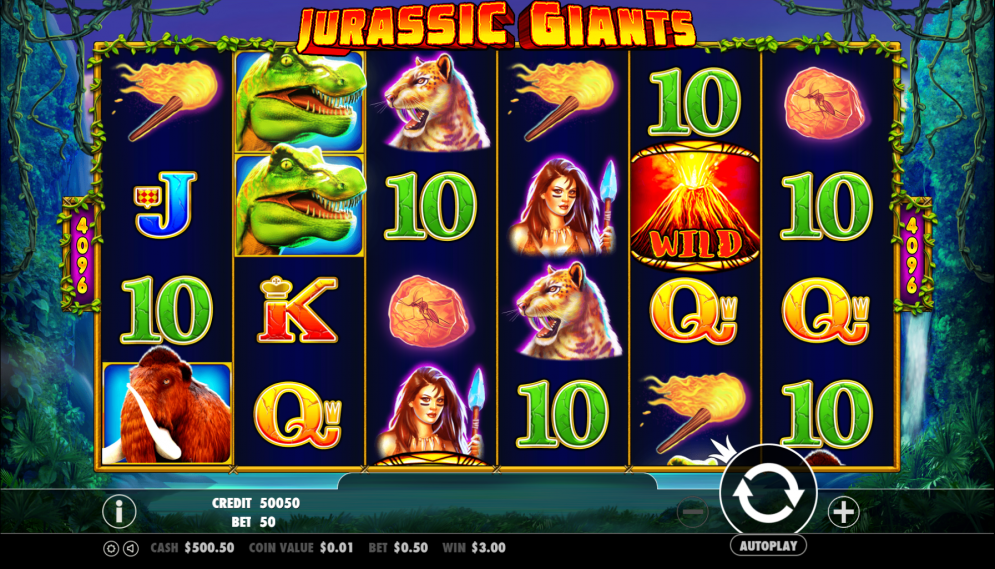 Rotate your device to start Play
Best Casinos to Play Jurassic Giants for Real Money :
Jurassic Giants is a stunning slot game in which everything is bigger, and I have played it for a few hours in order to be able to write this review, and tell you what I think about the slot and what are its pros and cons. Theoretical return to player (RTP) is 96.01%, which is good enough, and the game feels like a classic slot because of the graphics, but is actually an innovative slot that does everything a bit different than the standard.
Graphics aren't good. The five card symbols look like card symbols in any other classic slot game, which is alright, but the six main symbols are poorly drawn and are not even drawn in the same style. Mammoth and T-Rex are essentially cartoons, while Woman Hunter and Sabre-toothed Tiger are much more realistic. The sixth symbol is a Torch, and it's not clear what symbol number five is. This is pretty poor, and it just barely depicts the intended theme. And then there are Diamonds.
Main game and paytable
Jurassic Giants is played on a gigantic board, 6×4 with 24 symbols, and whopping 2048 paylines that pay both ways so there's actually 4096 of them. This means that Jurassic Giants is essentially a 243 ways to win type of game, but on an enlarged board, with paylines that pay in both directions. Everything in Jurassic Giants is gigantic.
There are eleven symbols in the paytable, and five of these are low-value card symbols. Six symbols are the main ones, but they couldn't be called high-value symbols as they pay only slightly better than the card symbols. Mammoth and T-Rex are the two best-paying symbols in the game, but in general you need to land a multi-payline win in Jurassic Giants if you want to win a decent amount of money. Without multiple winning ways, it's just not possible. Symbols pay already for three-of-a-kind, and the best possible win is six-of-a-kind since there are six reels. In addition to these eleven symbols there is also a Wild that appears on four middle reels, and a Scatter that can appear of any position independently for a maximum number of Scatters of 24.
Bonus features
The sheer number of Scatters allows Jurassic Giant to offer something incredible, and that's the prospect of winning whopping 250 free spins. If you land 20 or more Scatters on the 24 positions you have on the board, you'll win 250 free spins! 19 Scatters will award 100 free spins, 18 Scatters will award 80 free spins, and the minimum number of Scatters to trigger the free spins game is 10. In that case you'll get 15 free spins.
Not only that the number of free spins can be incredible, each free spin will randomly be given a multiplier of x2, x3 or x4, and finally, the free spins can be re-triggered. If you do get those 250 free spins, there's a really good chance you will re-trigger the feature for some more. This is an incredible proposal and it's something rarely or never seen in slots.
Conclusion
If you want to play a slot game which can deliver an incredible number of free spins, then Jurassic Giants is one of the best. Rarely can you get 250 free spins, or 4096 paylines for that matter. But when you remove the fact that everything is gigantic in this game, it's essentially a classic slot that doesn't have any special features. It's a bare bones gameplay in which only a win multiplier during the free spins game is something out of the ordinary. This game isn't for everyone, but if you liked what you read here, give it a go and see do you like it.
full list of Pragmatic Play games