Best Casino To Play This Slot for Real Money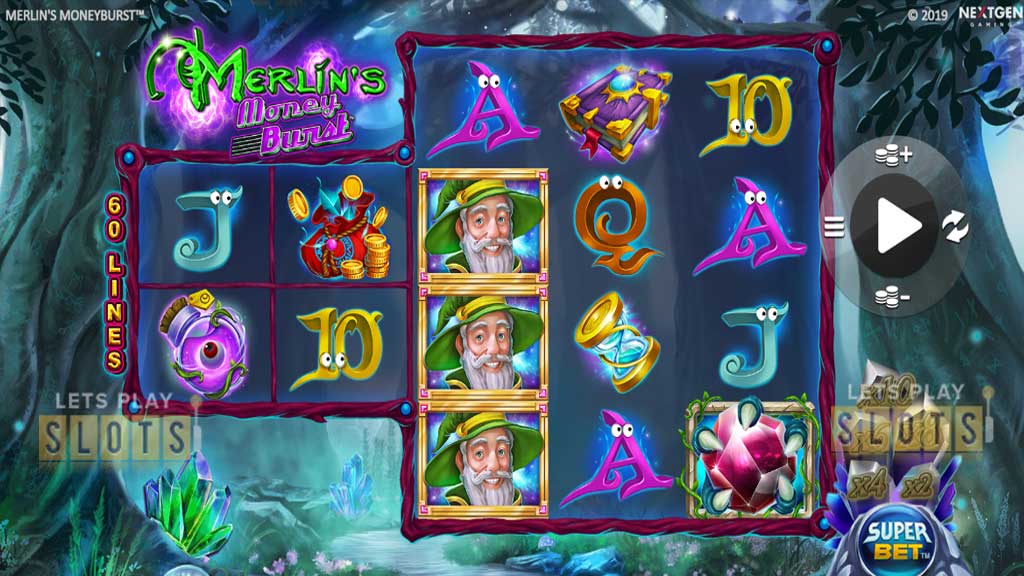 Rotate your device to start Play
Best Casinos to Play Merlin's Money Burst for Real Money :
The game is played on a five-reel board with two reels that are two rows high and three reels that are four rows high. The number of paylines is fixed at 60 and you pay a minimum of €0.30 to play the game. That value will increase if you click one of the Superbet levels, and on Level 5 the minimum bet is €2.50 while the maximum is €62.50. The game is a bit expensive to play, and it's not advisable to play it without the Superbet.
Main game and paytable
The main purpose of the two small reels, or a 2×2 area, is that features get triggered when you land the same symbol in that entire area, so four of the same symbol. You will either get a small bonus feature if that's all that happened on your reels, or the best feature in the game if you also land three Scatters at the same time.
The paytable is decent, especially if we know that you can buy Wild win multipliers in this game, which is what Superbet levels are. Merlin Wild is the best-paying symbol in the game with a 1500 coin prize, and the four main symbols pay 500, 300, 100 and 100 coins for five-of-a-kind respectively. There are also card symbols but these are no good. In essence, this kind of paytable can even generate good wins on its own, even on a single payline, and multi-payline wins and wins achieved during the bonus features will be even better.
Bonus features
When you land four of the same symbol on the 2×2 area, you'll trigger Merlin's Held Re-Spins where those four symbols will be held while the remaining reels will re-spin five times. If you also land three Scatters at the same time, you'll trigger Merlin's Wild Spins, and your 2×2 area will turn into Wilds and will be held as the other reels spin for free 10 times. If you only land the Scatters but not the same symbol in the 2×2 area, you'll just get Merlin's Free Games, which is 10 free spins. In all cases Merlin may enchant some symbols at random and turn them into Wilds.
Merlin's Money Burst Slots RTP
Theoretical return to player (RTP) starts at 95.50% and that's what you get for normal play, if you don't use any of the Superbet options. It's only when you start climbing through Superbet levels that you start getting better RTP as you're basically paying for a Wild win multiplier. RTP is at its best at Level 5, with a x10 Wild win multiplier, and it costs a minimum of €2.50 to play the game at this Superbet level. Variance is high so be prepared to make a lot of spins before you see the game release a mega win.
Conclusion
Merlin's Money Burst may be a bit expensive to play with Superbet Level 5 but this is pretty much the only proper way to play the game. Buy yourself the largest win multiplier that you can and you'll be enjoying RTP of 96.75%, it's just that you have to have a budget large enough. This game is definitely worth playing for real money as wins can be incredible during Merlin's Wild Spins if you have a x10 win multiplier on your Wilds. You'll find the game in NextGen casinos and you should play it for real money, this is a quality slot game.
full list of NextGen Gaming games