Best Casino To Play This Slot for Real Money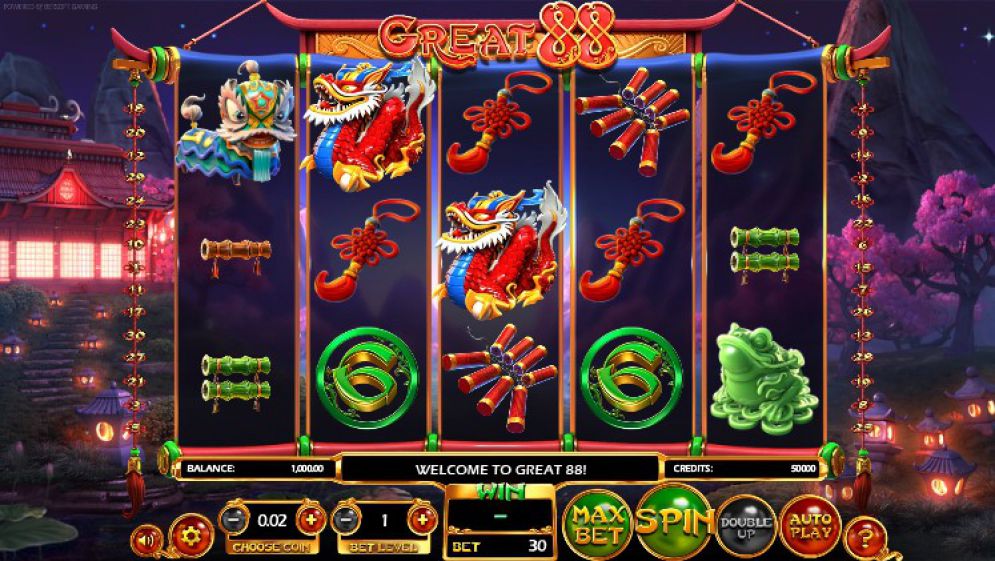 Rotate your device to start Play
Best Casinos to Play Great 88 for Real Money :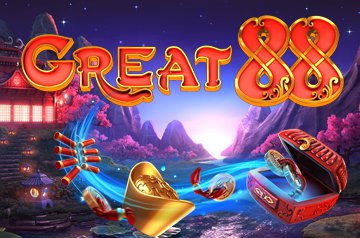 I've played Great 88 recently to be able to give you an honest opinion of this slot, and it's a high variance slot that will be enjoyed by most players who are fans of the Chinese theme and of high variance slot machines. Great 88 gives you a chance to win up to 6000x your bet on the bonus wheel, and this is by far the best-looking Chinese themed slot game. It depicts the celebration of the Chinese New Year, and there's a lot of fireworks!
Main game and paytable
The game is played on a standard 5×3 board, and there are 30 paylines. Theoretical return to player (RTP) is only 94.30%, a bit too low for the more demaning players, but classic slot players probably won't mind as long as the variance is high and there's a chance to win big. And that is the case with Great 88, so it's a good high variance slot. The maximum possible bet per spin is only $15, which again indicates this slot requires a lot of spins.
There are 11 symbols in the paytable, and five of them are almost worthless, leaving six that matter. Three of them can be considered medium-win symbols, and three are high-win symbols which you'll want to see on your reels often as they'll be responsible for all the big wins – Dragon, Lion and Toad. The twelvth paying symbol is the Wild, and it's also the best-paying symbol in the game as it's the rarest., and it pays 8,888 coins for five-of-a-kind. The next best symbol, Dragon, pays 1000. This applies to a bet of 30 coins per spin, so the best prize is 297x your bet and the best-paying normal symbol pays 33x your bet.
Bonus features
You first need to land three Scatters to have a chance to trigger the free spins game, but unlike with most slots, this won't happen right away but you'll have to pick the Scatters to reveal different prizes. And there's a lot of these.
You can get a Dragon or Lion symbol, which will then simply combine with the rest of the board to produce wins, and Firecracker Wilds will also use the board, as they'll explode to produce some more Wilds. Bronze Coins will give you coin prizes. Jade Coins is what you want as they'll bring from 3 to 25 free spins, and there's a Golden Dumpling which triggers the Bonus Wheel on which you can win up to 8 free spins or up to 50x cash prize. Bonus Wheel also has a Mega Win segment, which then opens the Mega Win Wheel where you can win up to 6000x your bet.
The free spins are actually inferior to the other bonus features as they're just spins that are free, with nothing extra on top. The Mega Win Wheel is the best possible scenario, and the other bonus features will bring smaller prizes of up to 50x your bet or so. This means there's a lot of variance in the bonus round that begins when you land three Scatters. Only rarely will you get to play the Mega Win Wheel, and the 6000x prize is even more rare. On the Mega Win Wheel you'll have a 60% chance to win 100x your bet, a bit more than 20% chance to win 750x your bet, and less than 20% chance to win 6000x your bet.
Conclusion
Great 88 is a true high variance slot with several layers of variance. First you need Scatters, then you need to get to the Mega Win Wheel, and then you need to spin the wheel to get the best prize. It takes a lot of perseverance and patience to win money on Great 88, and it's only for the hard core high variance slot player.
full list of Betsoft Gaming games