Best Casino To Play This Slot for Real Money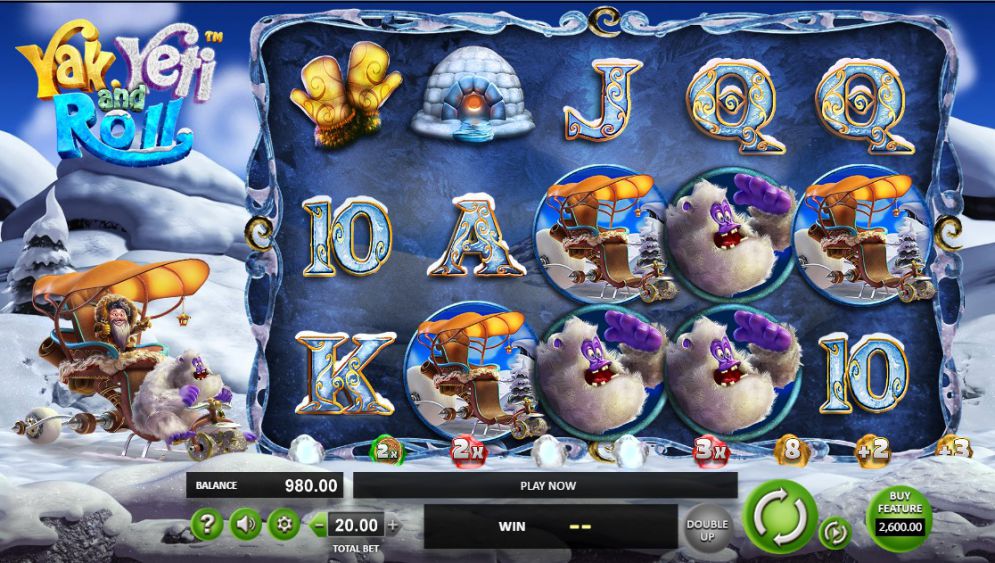 Rotate your device to start Play
Best Casinos to Play Yak Yeti and Roll for Real Money :
I quite liked this game as I was able to make a profit during test play by buying the free spins feature. Let me give you a more detailed opinion on this game and the free spins feature, so you can decide if this is a good game for you to play. In essence this is a normal videoslot, but all winning symbols will explode and will give you a chance to get another cascade, and the more cascades you get, the bigger the bonuses. In fact, if you don't get those bonuses, you won't even manage to get your stake back.
Main game and paytable
The game is played on a 5×3 board with 20 fixed paylines, and you pay from $0.20 to $20 to play these paylines. This is a game in which the winning symbols explode and are replaced by new ones that fall from above, and this is called a cascade. Of course, when new symbols fall down, new winning paylines may be formed and this would be another cascade. As you get consecutive cascades on the same original spin, the Snowmobile will advance through the Trail and will give you special bonuses. For two cascades you'll get a 2x your bet prize, for seven cascades you'll win 8 free spins, and there are other prizes as well, and the best one is if you land 17 cascades in a row, in which case you'll win 200x your bet. Since the game pays rarely, this is extremely difficult to achieve.
The game uses ten symbols, five of which are symbolized by cards, and these always pay less than your bet, even if you land five-of-a-kind. The five high-win symbols aren't much better either, as the top possible prize is only 5x your bet, so this is a skinny paytable with which you'll have difficulties with keeping your bank balance positive. You'll need to land those consecutive cascades to get a decent win, and more often than not, you'll need help from many Wilds to achieve a winning payline in this game. There is also a symbol that pays scattered, so it can save you sometimes and give you another cascade to work with.
Bonus features
There are two ways to trigger the free spins. One is through cascades, and you need to get seven consecutive cascades to win 8 free spins, and if you land three more cascades after this, you'll win +2, +3 and +5 free spins, for a total of 18 free spins. This is also the maximum number of free spins you can win at first, though you'll likely play something like 50 free spins, as the Trail is active during the feature so you can win some more spins unlimited number of times.
If you're tired of waiting, which will most likely be the case, you can buy the free spins feature with 18 free spins and a x4 win multiplier for the cost of 130x your bet. Since it's difficult to expect you can win trigger the free spins game once in 130 spins, paying for the feature is likely a better choice. You will need to trigger some more free spins and have some luck with the cascades in order to make a profit from the feature. Regular wins just don't get you there, you need multipliers and consecutive big wins.
Conclusion
Yak Yeti and Roll is a game which can be played in the usual way, spinning the reels in hope of triggering the feature, or you can pay for the feature. It's up to each player to decide what gives a better return on investment, but in any case this is a game in which you need many consecutive cascades in order to make money. Theoretical return to player is good enough, and that perfect storm of cascades is fun to watch once it happens on your reels, so this game is definitely recommended – especially to players who like to play this type of game in which you trigger re-spins by forming a winning payline.
full list of Betsoft Gaming games