Best Casino To Play This Slot for Real Money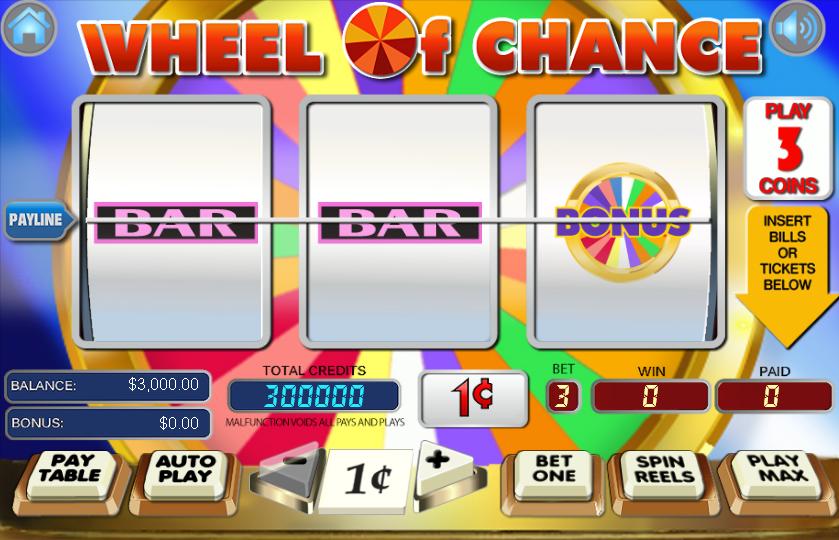 Rotate your device to start Play
Best Casinos to Play Wheel of Chance for Real Money :
How to Play the Wheel of Chance Slot
Whilst there is only one pay line on offer on the Wheel of Chance slot machine do not think this three stepper reel slot machine is not going to be a fun one to play, for it comes with a fairly frequently triggering bonus wheel spinning feature game on which you could win some very large amounts of cash with a little bit of luck in playing!
Be aware though that if and when you do choose to play this slot machine you can play one, two or three coins per spin and the more coins you do activate and put into play on that one single pay line the bigger the jackpot becomes.
If you choose to play this slot machine with three coins in play on your chosen coin value and stake setting then you could in an instant win a huge base game jackpot worth a huge 2400 coins, and also when you do set about playing it with three coin spins in play you could also trigger the wheel spinning bonus game an overview of which is to be found below!
Bonus Games and Bonus Features
Let us give you a quick round up of any special reel symbols and the bonus game that may just be awarded to you if you do decide to get stuck into play this great playing yet very easy to play Wheel of Chance slot machine.
The first thing to be aware of is that this slot machine does come with its own unique set of wild multiplier symbols and those symbols are the Diamond reel symbols, if you get one of them in any winning combination the value of that winning combination is boosted by two times its respective pay table listed winning payouts.
If you on the other hand get two of those symbols spinning in and helping you form any winning combination then the value of those winning combinations are boosted in value by four times their pay table listed winning payouts.
If you get all three Diamond symbols spinning in then you will be awarded with the jackpot payout which varies in size depending on just how many coins you wagered on the base game spin they spun in on, be aware when you do get three of those symbols spinning in the payout you see on the screen ifs the one you are paid out, and that winning payout is not subject to the multiplier values.
If you play this slot machine and you have chosen to wager three coins per spin on its one single pay line then you could trigger a bonus game too.
That bonus game is a wheel spinning game on which you simply have to set the bonus wheel spinning to find out which segment of the wheel will spin in, the cash prize in the segment of the wheel that stops facing the win arrow will be the one you will win.
The way in which the bonus game is triggered is by you simply having spun in the one Bonus symbol, so be on the lookout for it spinning in when you play this slot!
Resources
We have found that it is much easier for our website visitors to make an informed decision of which are the best slot machines to play by inserting into each of our slot game reviews a live play video of each slot machine in action, and with that in mind read on to see for yourself just how fun to play the Wheel of Chance slot machine is to play!
If you like what out see and want to give it some play time online then simply sign up to any of our reviewed and fully approved online casinos, and remember that you are going to be able to play this and other slots for any stake level you like.
Plus, as an added incentive to sign up to our feature online casino sites you will also be able to claim some bankroll boosting bonuses too that will allow you to maximize the value of your deposits when playing at those top rated casino sites!