Best Casino To Play This Slot for Real Money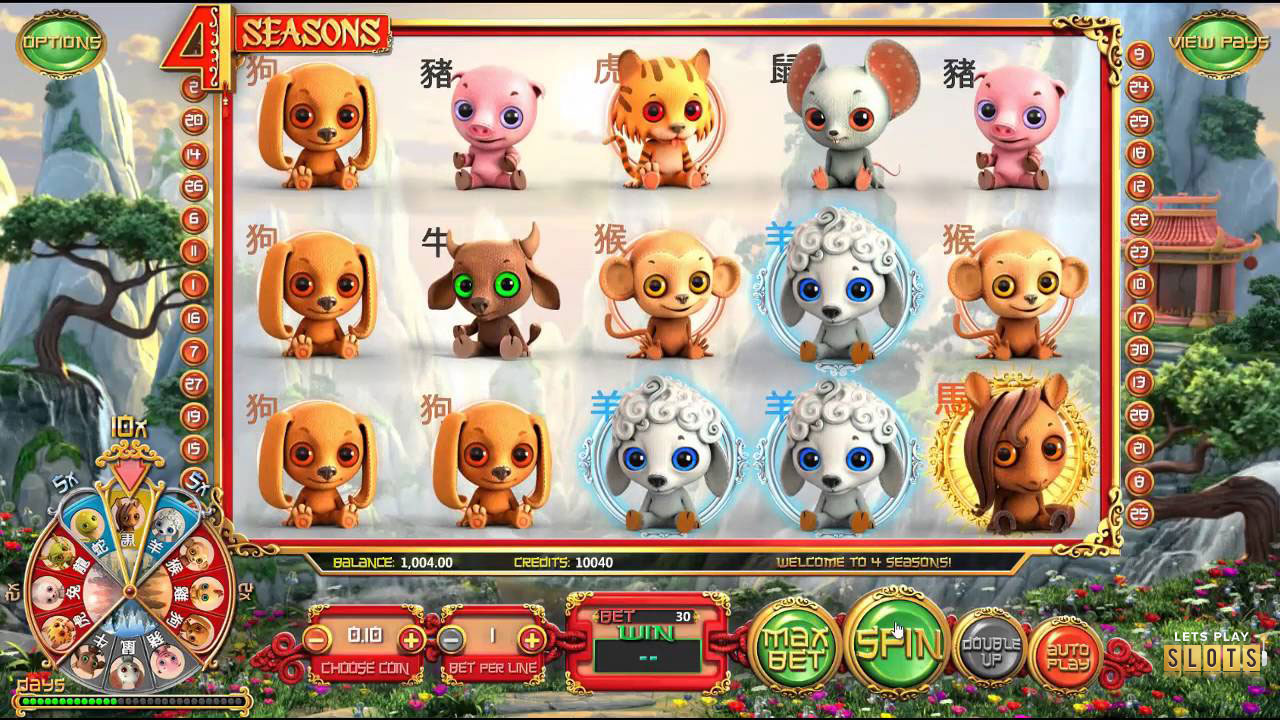 Rotate your device to start Play
Best Casinos to Play 4 Seasons for Real Money :
This Chinese-themed game is played on a standard 5×3 board but with 30 fixed paylines instead of more common 20 or 25. The main characteristic of this slot game is high variance and the accompanying chance of getting really big wins with multipliers that can range even up to x100. Multipliers are the main thing in this game, and one symbol will always have a x10 win multiplier. Theoretical return to player (RTP) is 95.00%, which seems low, but I found the game to be fun and rewarding nevertheless.
Main game and paytable
This game is innovative and that's obvious in every aspect of gameplay. Interestingly, all 12 symbols in the paytable pay the same – 50 coins for three-of-a-kind, 100 coins for four-of-a-kind and 250 coins for five-of-a-kind. The paytable itself is quite poor and doesn't pay much as the win multipliers are really something, and they'll be responsible for all the important wins.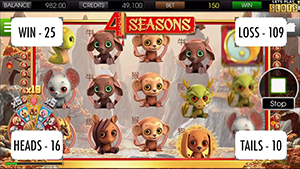 All 12 symbols are repesented with stuffed animals, which are very cute and are animated when forming a winning payline, plus there's a sound that each animal makes. This adds greatly to the overall experience of playing the game, and I really was looking forward to see all 12 animations and hearing all 12 sounds. In addition to normal symbols there's a Golden Cat Wild that appears on all reels and can pay a fantastic prize of 50,000 coins if you land five of them.
There's a wheel on the left of the board that displays all 12 symbols, and one of them has a x10 win multiplier while two more have a x5 win multiplier. Six symbols have a x2 win multiplier while three symbols are without a multiplier. Every 30 spins, the wheel will turn counter-clockwise and a new symbol will get the x10 multiplier. Every 90 spins, the season will change, but that doesn't mean anything in the game – it just changes the background.
Bonus features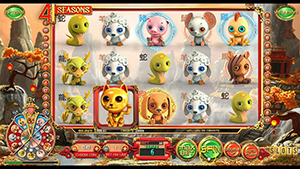 Block Win Combos can be responsible for big wins in this game. It's a special way to handle wins, as not only are those 30 paylines important, it's important if a win formed a block or not. When there's a block that's at least three symbols high that spans across two reels, the win multiplier x2 is applied to total win. The multiplier can go up to x10, but for that you'll need to land a full screen win of the same symbol. Note, if that happens to be the same symbol that currently has a x10 multiplier on the wheel, the total multiplier for that spin can be x100! Block wins are actually quite rare as this is a high variance game, but the potential wins are very tempting. Also, when a block win comes along, you'll see some gigantic symbols!
In addition to those bonus features, there's also a free spins game that didn't prove to be very rewarding any time I triggered it. Yin/Yang Scatter will award 8, 12 or 20 free spins when you land three, four or five Scatters respectively, and sadly the free spins are just spins that are free, with no extra feature on top. Free spins do not progress the day counter, either, so it's actually a small break from the progressive gameplay during which you'll win some coins but not too much.
Conclusion
4 Seasons could have been a much better slot game if it had better RTP, and initially I really didn't like the prospect of playing a slot game with only 95% RTP. However, this game does offer some incredible wins, and if you manage to land one of them you won't care about the RTP. Multipliers and big wins in this game are just too good to ignore, so 4 Seasons is a game worth playing. It's a proper Chinese-themed slot where you expect high variance and a chance of some really big wins. That's exactly what 4 Seasons is providing.
full list of Betsoft Gaming games