Best Casino To Play This Slot for Real Money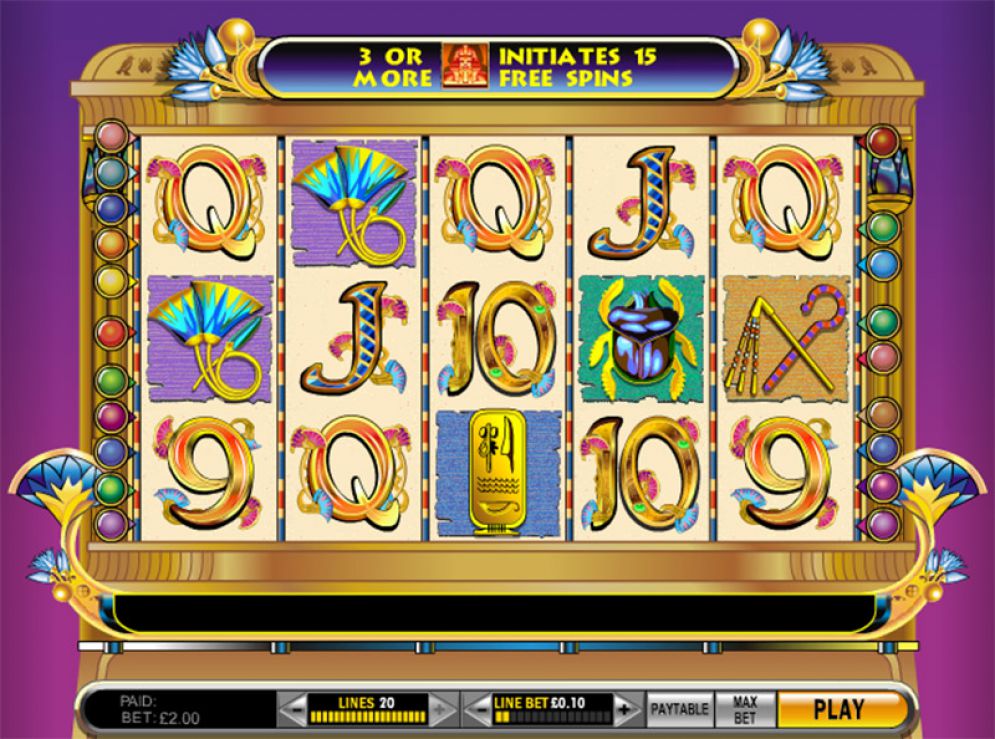 Rotate your device to start Play
Best Casinos to Play Cleopatra for Real Money :
This is one of the most popular slot of all times, and I have played it extensively to find out why is it so, so I can share my findings with you. It's obvious this game owes its success to its simplicity, which then creates a familiar environment. There are even players who play this game exclusively – that's how good of a slot machine Cleopatra is.
The game uses 20 paylines on a 5×3 board, and you can choose how many lines you wish to bet on. Available choices are 1, 5, 9 15 or all 20. By choosing a different number of paylines you directly affect the variance of the slot game, as many classic slot players know. If you just play all 20 paylines, Cleopatra slot machine would have medium variance, and you can increase it by decreasing the number of paylines you're playing. A very important trait of Cleopatra is that it allows players to bet big on a single payline, which few slots allow, and many players do want to have that option. Some would even claim the reels are predictable and will design betting strategies around their findings. Cleopatra is easy to learn to play, but difficult to master, and that's its main attraction.
Main game and paytable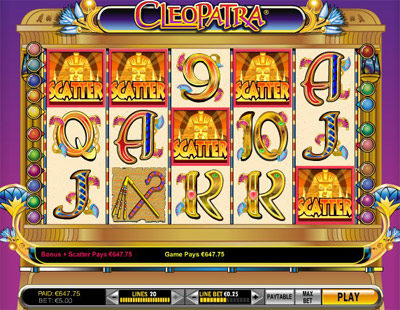 Cleopatra is just another classic slot, but does its job better than most. One example of this is that you can expect to win roughly a bit more than one third of your spins, which is good for the game and makes you feel like you're geting paid often. Variance is medium so this game is pleasant to play as it won't let you get too deep into negative.
However, the theoretical return to player (RTP) is only 95.01%, which means this game pays similar to a lot of classic slots, and can't compete with more modern slots when it comes to theoretical payout. It does, however, provide the most important thing high slot players want to see, and that's a huge prize of 10,000 times the line bet for landing five Cleopatras. Of course, with 20 paylines, there's a remote possibility of a 200,000x win, which would be the jackpot of the game. This kind of payout is hardly ever seen in slots.
The theme of the game is excellent, as it has that classic slot feel yet the symbols are colorful and interesting. The card symbols are there but have sand for background so they really don't get in the way of most important symbols such as Scarab, Horus, and of course Cleopatra. Everything just looks great and it's incredible that a slot game from 2005 shows zero signs of aging.
Bonus features
When you land three, four or five Scatters on your reels you'll trigger the free spins game which will always give 15 free spins, and can be re-triggered for up to 180 free spins.The Scatters will pay a cash prize which is actually quite significant, as for four Scatters you'll get 20x your bet and for all five you'll get 100x. During the feature, all prizes are tripled except for Cleopatra which is capped at 10,000 coins. This free spins game isn't very rewarding unless you can re-trigger it a few times, or unless you can land a nice win that involves one of the best symbols in the game.
Conclusion
Cleopatra is one of the most popular slots ever because of its simplicity and the stunning theme that's so popular with players. There's really nothing non-familiar in this slot game, it's just simple classic slot gameplay and a free spins game with tripled prizes. This may not seem like much, but this game does it so well that everyone likes it. Those reels in Cleopatra can provide an enormous win anytime.