Best Casino To Play This Slot for Real Money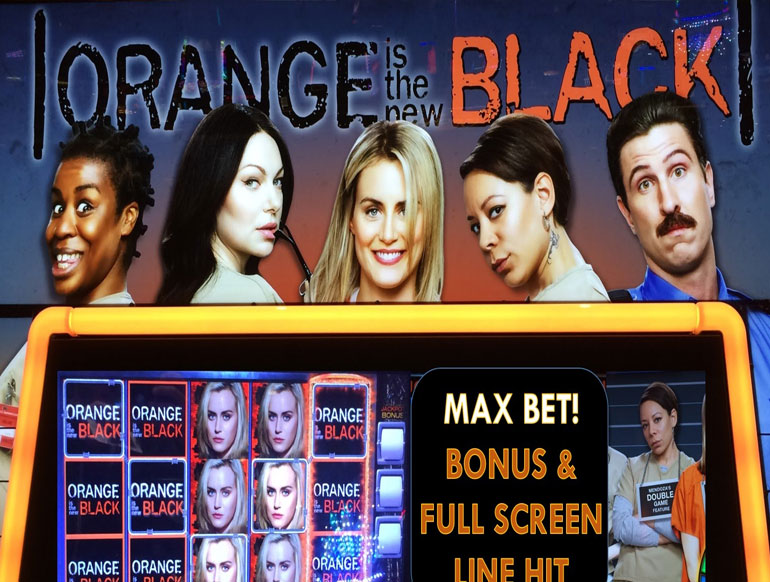 Rotate your device to start Play
Best Casinos to Play Orange is the New Black Slot for Real Money :
The wildly popular Orange is the new Black has now got its own slot! The game comes in 2 flavours and both offer individual features however the two are banked together.
Featuring all the main characters, you'll also find music from the original soundtrack and clips from the series. There are scatter symbols on reels 1, 2 and 3 as well as 4 bonus features, including Crazy Eyes Free Spins, Alex's extra symbols and Pipers all features that combine every feature during the free spins!
Each of the free spins features is chosen randomly and you could see yourself winning big. Before the free spins begin, you have to spin a wheel that will decide how many free spins you get and also a multiplier. There are also a tonne of additional hidden features on this slot that are randomly triggered during any given spin, however, you'll find them more often occurring the higher you bet.
The biggest part about this slot is that the wagers are completely changeable making it accessible regardless of your playing budget. There is no progressive on this game, meaning you won't be forced to pay an additional wager that feeds the jackpots.
The game has 30 paylines and there are plenty of stacked symbols including stacked wilds which stand in for all symbols except the scatter symbols. The Scatter symbols are a frontal shot of Piper in her orange jumpsuit and spinning these into view will trigger the bonus feature.
Playing the Orange is the New Black Slot
You really will love the sound effects on offer on the new Orange is the New Black Slot game, and you will always enjoy not only the way that the base game plays and pays but its unique set of bonus games which may just be triggered in very quick succession!
We really do think that if you ever come across this slot machine in any land based casino you are visiting you should throw a few banknotes into it and give it some play time, for just like the player playing it in the video about you could win some large winning payouts if you get the bonus game triggering!
Frequently Asked Orange is the New Black Slot Questions
We always make a beeline to play the new Orange is the New Black slot, for we love the sound effects that are in play when you are playing it and on any spin you play off you could trigger its potentially massive paying bonus games. There may be a few more questions that you have about the design of this new slot machine and if there are then in the following section we have answered some of the most frequently asked questions about it.
What volatility does the Orange is the New Black Slot offer?
We have to admit we do love everything about the Orange is the New Black slot machine and whenever we have seen it available on a casino floor we have given it quite a lot of play time, and as such we are in a very good position to let you know how volatile the slot is!
There are going to be numerous ways that you can and will form winning combinations when playing this slot and the bonus game can and also does often trigger frequently so in regards to the volatility of this slot we are convinced it is a medium variance slot which should appeal to a lot of players!
How high will the RTP be on the Orange is the New Black Slot?
Playing slot games such as the Orange is the New Black Slot will see your single session RTP's bouncing all over the place for you can win or lose on any spins you put into live play, however this is a slot which does offer a high long term expected RTP so you should get plenty of play time from your bankroll when playing it.
Is the Orange is the New Black slots stake levels adjustable?
One other thing worth knowing about the brand new Orange is the New Black Slot is that whilst it is a slot you can play for pennies there is the need for you to play a certain number of coins per spin as the paylines are fixed so you will not be able to adjust the number of lines you have in play other than playing every single one of them on each base game spin!
Where Can I Play the Orange is the New Black Slot in Las Vegas?
If you would like to play the Orange is the New Black slot for real money in a land based casino when you are visiting Las Vegas, then there are of course lots of casinos that do have this slot game on offer. The Stratosphere Casino would be a great venue in which to play this slot and that casino is located at 2000 Las Vegas Boulevard South. This casino for reference is owned by American Casino & Entertainment Properties.
Remember, that by playing this slot for real money you will earn comp points if you join up to the casino comp club, and if you do make sure you always insert your card into the comp card slot so your comp points will be added to you comp club account.
Who Designed the Orange is the New Black Slot?
When you do decide to play the Orange is the New Black slot you are going to find it a great slot to play, however keep in mind that the company that designed and launched the Orange is the New Black slot is International Game Technology and as such you are going to find it comes with lots of settings in regards to not only the stake levels that you can play it for but also audio settings too, so make sure you play this slot with the volume set as loud as you can do to enhance your gaming session!