Best Casino To Play This Slot for Real Money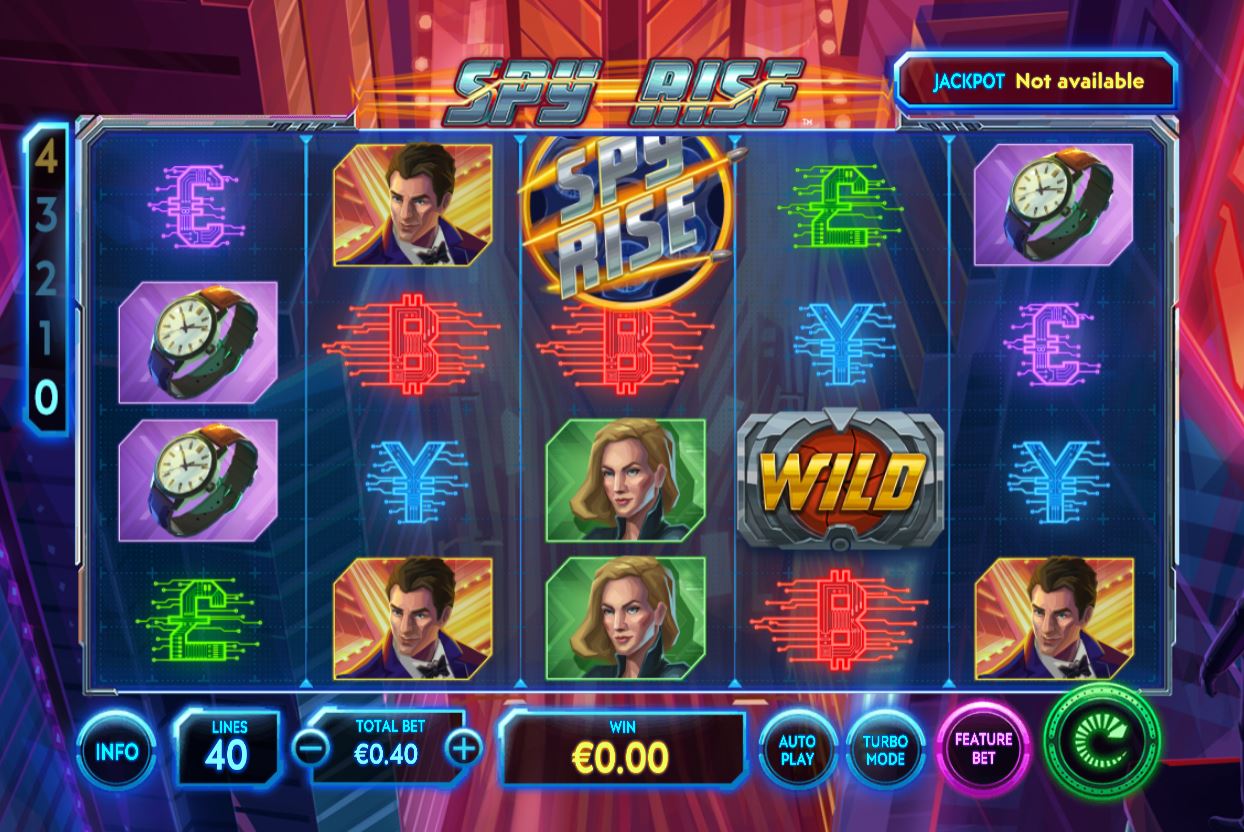 Rotate your device to start Play
Best Casinos to Play Spy Rise for Real Money :
The setup of this slot game is interesting as it's a spy game which also uses cryptocurrencies as symbols, and it's clear this slot game is designed to be played by young people. However, the spins are really slow, even in Turbo mode, so this may put some people off if they're expecting fast-paced action. I've played this game for a while in order to see it for what it really is, and I believe I can give a detailed honest review of it.
Main game and paytable
There are two versions of the paytable, one with normal pays and another one in which you can choose to upgrade from one to all four high-win symbols by paying more per spin. To upgrade all four symbols you'd pay 3x your normal bet, and it seems wise to do so.
With a normal paytable, the four high-win symbols will pay from 17.5x to 50x your bet for a five-of-a-kind win, and from 29x to 83x your bet if you upgraded the symbols. The prizes for four- and three-of-a-kind will also rise, though the game pays disproportionatly less for these, so the best you can get with upgraded symbols is 12.5x your bet. If you're upgrading the symbols, upgrade all four, as that's what gives the best value.
The six currency and cryptocurrency symbols will always pay the same, 1x to 2x your bet for five-of-a-kind, and these will only serve a purpose of getting you some money back to keep you in the game for longer.
Bonus features
On any given spin, one or more of your reels can have a red background. If three reels are red you'll win 3x your bet, if four reels are red you'll win 25x your bet, and if all five are red then you'll win the progressive jackpot.
When you land three Scatters on reels 1, 3 and 5 you'll trigger the free spins game with 10 free spins and 40 paylines that pay both ways. If you have any upgraded symbols, they'll carry over into this feature. You purchase upgrades by clicking the Feature Bet button, and to upgrade all four possible high-win symbols to better versions of themselves, you'd pay 3x your normal bet. The free spins game, since it pays both ways, will offer a greater chance of landing small wins, but it won't really change much as five-of-a-kind wins are the only thing that matters here and that kind of win pays the same left to right and right to left so you don't need the win both ways game mechanics. That means the free spins game isn't really worth that much compared to the base game.
Spy Rise Slots RTP
Spy Rise only has a theoretical return to player (RTP) of 95.02%, which puts it in the true classic slots range, so you'll only play this slot game if you like the other things about it, most notably the progressive jackpot. The game doesn't say if the RTP is higher or lower when you upgrade the symbols, and it's possible you might be getting an additional edge over the game if you upgrade all four high-win symbols.
Conclusion
Spy Rise will be a good game to play if you believe it's a good choice to upgrade the symbols, though this might deplete your bankroll more quickly if you misjudge the bet per spin you can make with your available balance. The game does provide a certain chance of landing a nice win, even without the upgraded symbols, but only when you land five-of-a-kind wins as anything less than that won't amount to much. It's a decent title by Playtech, but one that should be played with care.
full list of Playtech games