Best Casino To Play This Slot for Real Money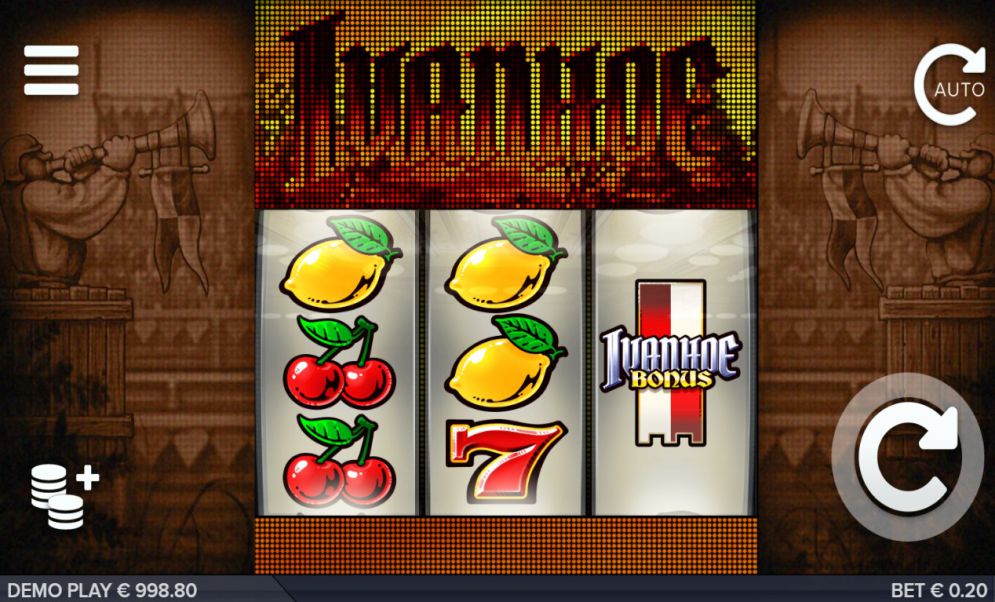 Rotate your device to start Play
Best Casinos to Play Ivanhoe for Real Money :
Ivanhoe is a special little slot game, as it's a three-reel fruit machine that combines the usual fruit machine gameplay with the medieval story of Ivanhoe. It actually looks great, this slot machine draws you in year 1194 and gives you a very fun bonus game with five different levels. The first time I played this game my mind was blown, as it's very rare to see this kind of innovative slot. I loved the bonus game even though I'm not a fan of fruit machines, but this slot is just excellent. Let's go through all the details you need to know before playing the game.
Main game and paytable
There are six symbols that appear on your three reels: Red Seven, Blue Seven, Bar, Watermelon, Lemon and Cherry. As you'd expect from a fruit machine, the difference between the best and the worst symbol is incredible. For three Red Sevens you'll get 3000 coins while for three Cherries you'll only get 80. There are 17 paylines, which is a large number for a 3×3 game, and it essentially means that you just need to land one symbol on each reel and you'll form a winning payline. There's no chance a win will elude you if you land three of the same symbol.
Theoretical return to player (RTP) is 96.30%, which is absolutely fantastic for a three-reel slot machine, as they usually offer criminally low payout with a slim chance to win incredible amounts of money. Ivanhoe is more like a standard slot game as it has good payout, and the chance to win big is still here but this is more of a medium variance experience.
Bonus features
The bonus feature in Ivanhoe is the most complex one in all fruit machines, which rarely even give you a bonus feature to begin with. Those players who just want a three-reel experience and specifically don't want any bonus features won't like this slot game, but everyone else will.
When you land three Scatters on your three reels you'll enter the bonus game and will be given 5 free spins ti begin with. The first level, Ambush!, will have a x2 win multiplier, and to advance to the next level you just need to win 2500 coins. If you do, you'll advance to the Joust level where all wins are tripled, and you'll get +3 free spins to win a cumulative total of 8000 coins. If you do, you'll play Robin's Rescue with a x4 win multiplier and a 20,000 coin win requirement, again with +3 free spins. The fourth level is Joust Part 2, with a x5 win multiplier and 81,000 coin win threshold, and finally Return of the King has a x6 multiplier and the maximum possible win is 300,000 coins.
On each of the five levels you'll also see animations of the scene, and it's interesting that you progress through the game by winning money, giving you two reasons why you should be happy when you land a big win. It's possible to reach the fifth stage, but is uncommon, as you need to get a lot of big wins with a big win multiplier to fulfill the coin win requirements. Nevertheless, the bonus round is fun each and every time you play. A win on your final spin can propel you to the next level instantly. Also, each Bonus symbol you land during the free spins game will give you +1 extra free spin, which will also help you reach the goal. During the game, Crown symbol is Wild, which is even more helpful, and it only appears on the middle reel. In the main game, it's a blocker.
Conclusion
Ivanhoe is a great game that will be enjoyed by most fruit machine and three-reel slot fans, it's unprecedented to have this kind of bonus game in a fruit machine. The game is very fun to play, especially the bonus round. This innovative game deserves both thumbs up, and everyone should try it out at least once, to see is it something for your taste.
full list of ELK Studios games