Best Casino To Play This Slot for Real Money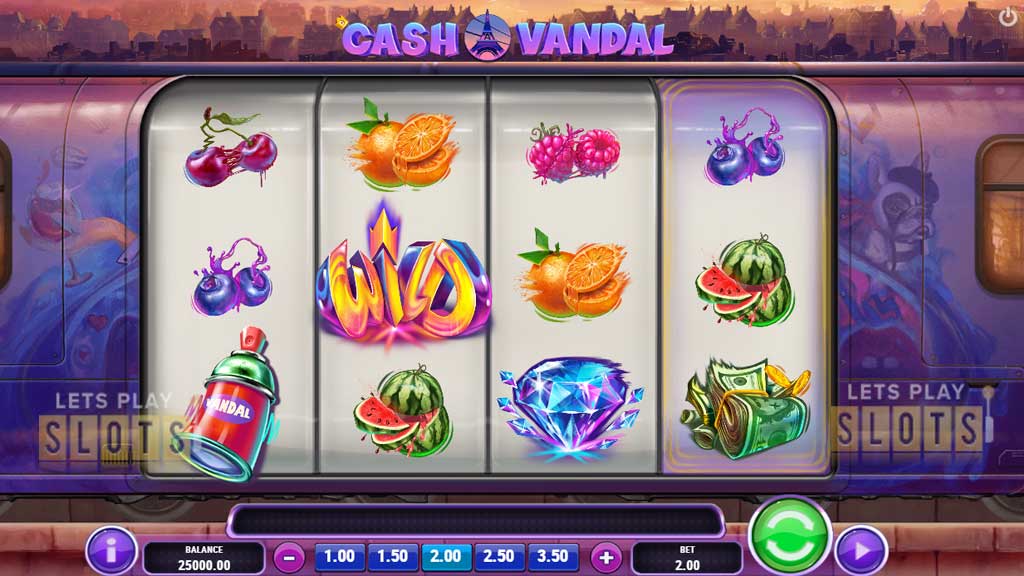 Rotate your device to start Play
Best Casinos to Play Cash Vandal for Real Money :
Cash Vandal slot game is an interesting release by Play'n GO as it does many things differently, and appeals to the millenial audience. The game is played on a very small 4×3 board with 10 paylines that spins very fast on both desktop and mobile devices, and it has an interesting high-resolution theme. I've played this game for a few hundred spins in order to be able to write this review, so here's what I think about Cash Vandal, both the good and the bad.
Main game and paytable
It's always nice to see a slot game that feels effortless to play, and this is due to the good design and good programming as there's no lag whatsoever, and there's no waiting time either – all the wins are immediately awarded and there are no unnecessary animations. The game is just perfect in this respect.
The paytable only offers wins up to four-of-a-kind since there are four reels, and the best single payline win you can get is 10x your total bet. Diamond symbol is the most powerful one. Gold and Cash are the other two good symbols, while the five Fruit symbols can only give you your stake back on a single winning payline.
Bonus features
The game has three different settings – Paris, London and Berlin. You always start with Paris, and then move to the next one when you trigger the move. Whenever you land a Golden Spray Can symbol on reel 4, something will happen. If it lands alone, then you'll just get a re-spin with reel 4 held. If it lands together with at exactly one more Spray Can on other reels, then you'll get 1 free spin with Stacked Wilds on reel 4 and a unique reel modifier. If the Golden Spray Can lands together with 2 or 3 other Spray Cans, then you'll trigger the free spins feature and will get either 5 or 10 free spins. There will be a City Feature on each spin, and you'll be able to choose which city oyu want to go to!
If Paris is the active city, then the reel modifier synchronises the reels 1 and 2, which forms 2×3 Mega Symbols on these reels. If London is the active city, then the reel modifier adds 2 to 9 Mystery Symbols to reels 1, 2 and 3. If Berlin is the active city, then the reel modifier adds 2 or 3 Wild symbols on reels 1, 2 and 3.
Cash Vandal Slots RTP
Though you might not think the game pays at all since it's designed to be played over a large number of spins, the theoretical return to player (RTP) is excellent, 96.47%. The variance is quite high when it comes to both getting wins and triggering the bonus features, and it will take quite some time before you see everything the game has in store for you. Prepare yourself for a long game and adjust your bet accordingly. This is seemingly a simple fun slot machine but it in fact a challenge to tame.
Conclusion
Cash Vandal is definitely an interesting slot game that not only does things differently but also provides several interesting bonus features. As soon as you learn which of the three bonus features works best for you you'll be able to choose it each and every time you trigger the free spins game, which will give you a certain advantage. This is an excellent high variance slot game, just don't make the mistake of taking it lightly as you need to play it well in order to walk away with a win.
full list of Play'n GO games