Best Casino To Play This Slot for Real Money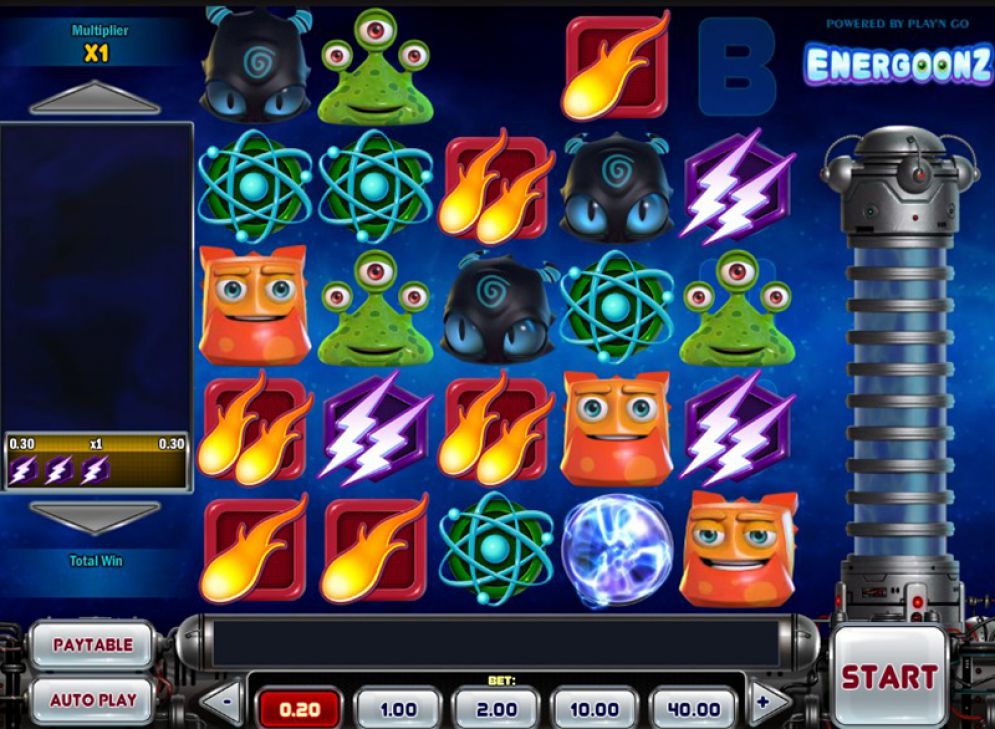 Rotate your device to start Play
Best Casinos to Play Energoonz for Real Money :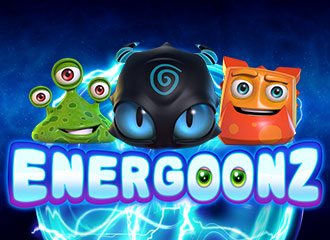 Energoonz is one of my favorite falling blocks games and I have played it again for a few hours in order to be able to give you my detailed opinion on this slot. The main thing that separates Energoonz from other slots from the genre is high theoretical return to player (RTP), which stands at 97.00%. Most of that theoretical payout is in the main game, too, as it has a win multiplier that can go up to x10. V
ariance is a bit high as the win frequency is low, and the game does offer a chance to win big, though it will happen very rarely. A lot of patience is needed to play Energoonz, as wins are rare and then get progressively more rare with each re-spin, so clearing the board is an extremely rare occurence.
Main game and paytable
Energoonz is played on a 5×5 without paylines, where every horizontal or vertical cluster of three or more symbols will be a win. There are ten normal symbols in the game and they pay from 2.50x to 25x for five-of-a-kind. All the symbols have stunning artwork, and so do the new ten symbols which you'll see during the bonus round.
The main game is very interesting as every win will trigger a re-spin, where all the symbols involved in the win will disappear. The re-spins will go on for as long as you get a new win, but also get progressively more difficult as there are fewer symbols on the board. With each re-spin the bonus meter will increase and will award a better multiplier, and the maximum is x10. After the winning symbols disappear, they will leave behind one Wild symbol, which means it will be a lot easier for you to get that new win. A Wild that is then used for a win disappears.
What this means is that the main game can be very rewarding, especially if you hit that x10 win multiplier, as you will have won on your previous re-spins as well and this will be icing on the cake. All that on a single spin. This is my favorite feature in Energoonz because it can produce a big win on literally any spin, and although there's a real bonus feature in this slot game, the main game is superior in terms of fun.
It's possible to clear the whole board, in which case you'll get a prize of 1000x your bet. On every spin, from zero to all five columns will display the word BONUS behind the reels, and it's your job to clear one or more of those columns to reveal the word, which will then trigger the bonus round. This is much easier than clearing the board but is still a rare event
Bonus features
The bonus round is played on a different board in which ten-of-a-kind wins are possible, and it's also played with a different set of symbols that pay much better than the ones in the main game. In the main game, the best possible prize for five-of-a-kind is 25x your bet, and in the bonus game it's 175x your bet if you land ten-of-a-kind of the best symbols. You get 10 free spins. This bonus round can both be very rewarding and is very fun to play, and is also a welcome break from that falling blocks game mechanics.
Conclusion
Energoonz is one of online slots with better payout so it's worth playing for that alone, and falling blocks slots fans will definitely like it. The Play'n Go slot game has excellent graphics and is just a bit more fun to play, and just a bit more rewarding, than other games in the genre. The fact that on any spin you can reach a x10 win multiplier is very enticing. I recommend playing this slot game, especially if you want a falling blocks game with higher variance.
full list of Play'n GO games