Best Casino To Play This Slot for Real Money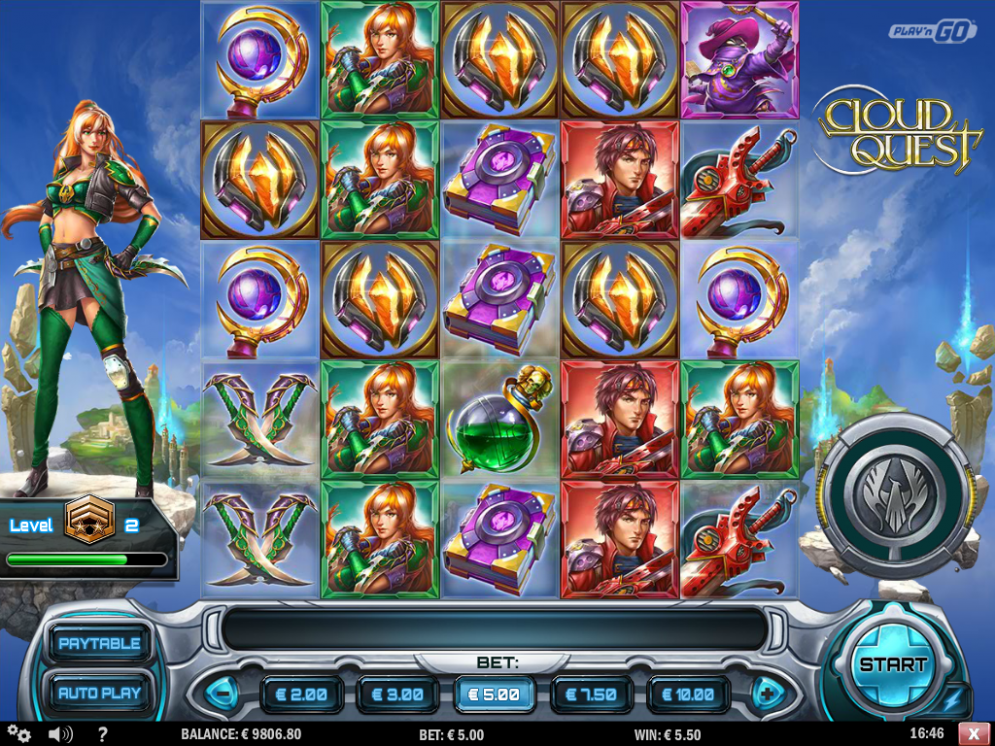 Rotate your device to start Play
Best Casinos to Play Cloud Quest for Real Money :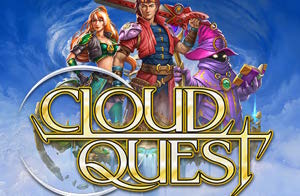 After playing Cloud Quest for a few hours I formed my opinion on it, so let me share it with you as we go through pros and cons of this Play'n Go slot before you begin playing. This game is a bit different so it will be helpful to read all the rules and explanations of game mechanics first.
The game resembles the Final Fantasy series of games and Play'n Go did an excellent job with the theme and graphics. Everything in this game is beautiful to see, and there's a lot going on, too.
Main game and paytable
Cloud Quest is played on a very large 5×5 board, so the maximum winning payline still involves five symbols just like in a normal slot, but here the payline can be formed horizontally, diagonally and even vertically. After any win, the winning symbols will disappear and the remaining blocks will fall down, with no new ones to fill the gaps, allowing you to clear an entire board, which carries a 1000 coin prize. This is very fun to play, especially as wins can be formed in three directions. Whenever a win of three or more symbols is formed, the exploding symbols will leave behind one Wild.
There are ten symbols in the paytable, and all have artwork. It's the lowest-paying symbol that's the most important, as that's the Power Stone which fills up the Power Meter every time you collect land a winning combination of it. Most symbols in the paytable pay in the same range, with the exception of the Male Hero, which pays much better than any other symbol, with a 100 coin prize for five-of-a-kind.
The game has theoretical return to player (RTP) of 96.52%, which is good enough for most players. Variance is medium, as the game pays often enough and the wins are of decent quality. The game is very easy to play as a result.
Bonus features
As you get wins that involve Power Stone symbols, you will fill up the Power Meter, and will then be awarded one of four random Super Powers and will get one free spin with that Power active. This makes for an elaborate bonus feature which first starts with collecting symbols for the Power Meter, and culminates with one of four bonus features.
Five of Fortune will simply multiply the prizes on your next spin by x5. Emblems of Endurance will make all Wilds sticky on the board until your spin ends, and Scatter of Success will make all paytable symbols pay scattered. Mark of Multitude will give you three Wilds instead of one after a win is formed.
Randomly, the word BONUS will be displayed on one of your five rows, and that's your bonus row for that spin. The objective of the game is to clear that row of any symbols, and when you manage to do that you'll enter the Bonus Round. It will start with between 5 and 20 free spins, and you'll get extra free spins every time you defeat a monster. And you do that by landing three symbols on a three-reel set. That's also how you advance to the next monster, and there are 5 stages with 20 monsters that pay progressively better prizes. The last monster is worth 100x your bet, and you'll get a bonus for remaining free spins as well.
There's also an additional feature that adds a lot to the gameplay even if it's not giving any cash, and as you defeat monsters during the Bonus Round you gain experience. The final level of your character is Titan.
Conclusion
Cloud Quest is one of those games that blur the line between a slot machine and a computer game, and that's why it's so much fun to play. You gain experience, reach levels, defeat monsters and claim prizes. Who wouldn't want to do that? Final Fantasy fans do it for free, and you can find yourself a good Play'n Go casino and play this slot game fto win money, it's quality stuff.
full list of Play'n GO games