Best Casino To Play This Slot for Real Money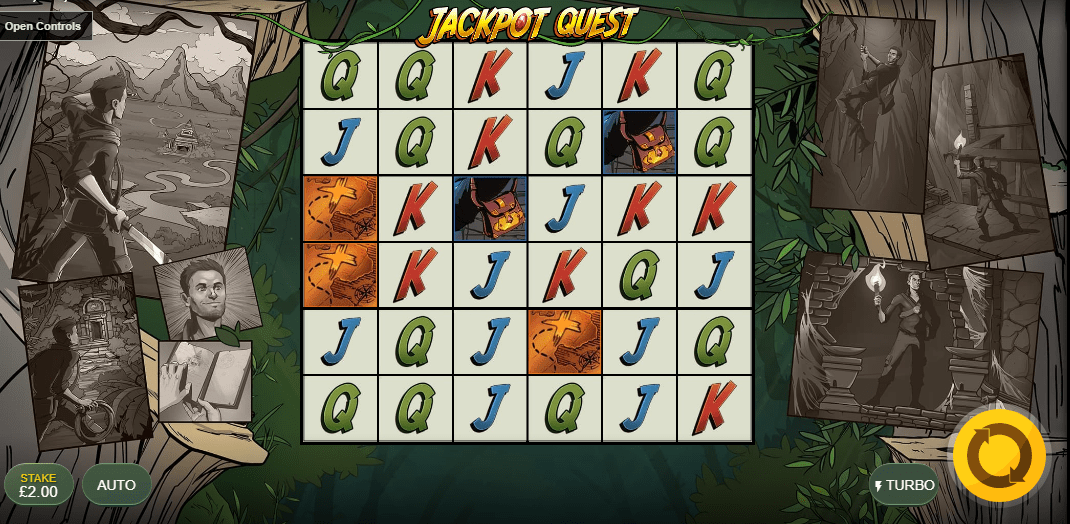 Rotate your device to start Play
Best Casinos to Play Jackpot Quest for Real Money :
Jackpot Quest is a game with a familiar theme that features an explorer and a quest for treasure. The theme is cartoonish and very beautiful, and the large 6×6 board makes it look even better. There are animations, large symbols, cutscenes, so the visuals are just stunning. The game has 40 fixed paylines and you pay from €0.20 to €100 to spin the reels, which is good as most 40-payline slots make you pay at least €0.40 to play. There is a Turbo option if the normal Spin isn't fast enough for you, and you can use Autoplay too.
Main game and paytable
The paytable is generous, and there are four true high-win symbols that can pay nice prizes, and this isn't one of those six-reel games in which only a six-of-a-kind win is worth something, either. The paytable looks like a normal five-reel paytable, with an added bonus of having a six-of-a-kind win that pays nice amounts from 320 to 1000 coins in case of four high-win symbols. Each high-win symbol can form a square Super Symbol ranging from 2×2 all the way up to 6×6.
Bonus features
This game doesn't have free spins as there are no Scatters, but instead the game mechanics actively help you to get a full-board win. This is done through re-spins that are triggered whenever you land high-win symbols. That area will be held and the remaining symbols will re-spin, and as long as at least one additional symbol is added to the board, you keep getting re-spins. This can result in a full-board win more often than you may think. However, the re-spins are getting triggered randomly.
Red Ruby Talisman, which is a Scatter that is rare, is helping you get bigger wins by turning all the high-win symbols on the board into one high-win symbol, but this is a rare event. It happens only when you land a large 2×2 high-win symbol on the board, and the Red Ruby Talisman also lands to activate it.
Jackpot Quest Slots RTP
Even if the game offers six-of-a-kind wins as well as re-spins that guide you towards a full-board win, the sad truth is that you need to be landing these kind of wins to stay ahead of the game. The theoretical return to player (RTP) is 96.06% but you need to be triggering the re-spins game often to keep up, and it feels the game is slipping away from you. Until you land a big win, that is. You need to play a lot of spins in this game to get the best out of it.
Conclusion
Jackpot Quest is definitely an interesting slot that fills the niche of large square slots with game mechanics a bit different than usual, and for some players all this may be a bit too much, especially as there are no clear rules regarding the re-spins. Sometimes you trigger them, sometimes you don't. It also seems 40 paylines is way too few for a 6×6 board. There also seem to be too many random things in this game. In any case, try out the slot for yourself and see if you like it. You'll find it at Red Tiger Gaming casinos where you can play the game for fun, to try it out, or for real money to take advantage of the generous paytable, six-of-a-kind wins, and the re-spins feature.
full list of Red Tiger Gaming games