Best Casino To Play This Slot for Real Money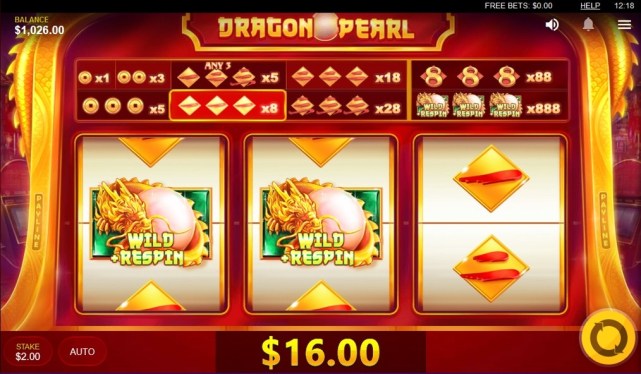 Rotate your device to start Play
Best Casinos to Play Dragon Pearl for Real Money :
This is a seemingly simple three-reel slot with one payline and a bet size that can range from €0.20 to €300 per spin, but the devil is in detail, and there's one notable advantage of playing this slot game. Obviously, if there's only one payline, your entire bet is invested and then multiplied by the win, whereas in most slots it's divided by 20, 40, or whatever the number of paylines is. Certain players will know how to recognize the advantages of this incredibly high-variance slot game.
Main game and paytable
The paytable is simple to memorize, especially as it's displayed on top of your reels at all times. One simple thing isn't mentioned but is evident as soon as you click the Spin button, and that is the fact that this game has blank symbols, so you'll be lucky to land three symbols on a spin.
Any single Coin will get you your stake back while two Coins will pay 3x your bet. This rises to 5x if you land three Coins on a winning payline. Then there are three versions of Caligraphy symbols, with one, two or three stripes, and if you mix any of them on a payline you'll win 5x. This rises to 8x, 18x and 28x for landing one-, two- and three-striped Caligraphy signs on a winning payline respectively. Finally, three Eights will give you a prize of 88x your bet – though there's one more prize to consider.
Bonus features
Wild Respin is a special symbol and it's a really powerful one, as if you land three of them scattered you'll win whopping 888x your bet. Not only that, but it's a Wild symbol that substitutes for any other symbol, and whenever you land it you get one free re-spin and the Wild locks for one re-spin. If you land a second one you get another re-spin, and if you land the third one you get the aforementioned main prize of 888x. In essence, the game helps you get there by giving you re-spins, and you don't have to land all three on one spin but can take your time.
Dragon Pearl Slots RTP
Dragon Pearl slot has a theoretical return to player (RTP) of 96.11%, which is just good enough. While there are several three-reel slots that rank among the highest-RTP games ever made, they don't really play too well in practice, and Dragon Pearl is different but that comes at a cost of having only a reasonable RTP. But it's good enough, the game can pay. Of course, it's a high variance slot game, not only because it has one payline only, but because there are blanks and you won't necessarily land enough symbols on every spin.
Conclusion
While yet again we have to play a slot game with a Dragon in the title, and the title offers little chance to remember this three-reel slot several days after you play it, this is a quality slot game that has its advantages. Probably only the three-reel veteran players will be able to see them, but in any case, even if it's a niche slot game it's a good one. You can find it at one of many online casinos that feature Red Tiger slot games, and it's recommended you try it out.
full list of Red Tiger Gaming games