Best Casino To Play This Slot for Real Money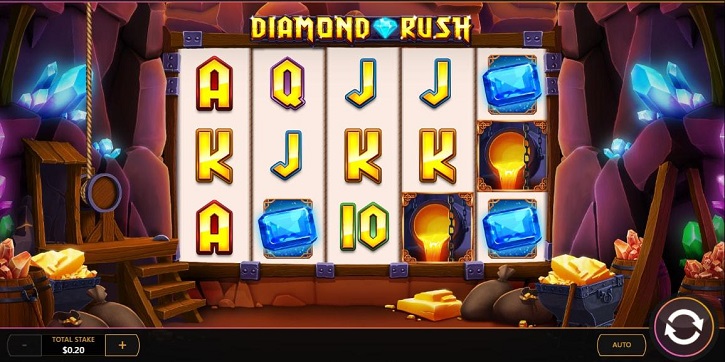 Rotate your device to start Play
Best Casinos to Play Diamond Rush for Real Money :
Diamond Rush is a slot I've tried out for a few hours to see how does it feel, and it's a decent slot machine with good graphics and an interesting theme and setup. The game is let down by the low theoretical payout but still it isn't bad if you just want to have fun in a shorter playing sessions. Let's go through the details of this slot game and see if you should play it despite the relatively low RTP.
Main game and paytable
Diamond Rush slot has two random features that can get triggered anytime during the main game. Little Dragon, Big Wins feature will grant an instant win up to 50x your bet. Happy Dwarf Bombs will throw some bombs at your reels for some explosive wins.
The game uses a paytable with a lot of symbols, and it starts with the five card symbols which don't pay much. The three Gem symbols are already considered high-win symbols so they can come in stacks during the free spins game, and they pay roughly twice as good as card symbols. The two main symbols really pay well, 400 and 600 coins respectively for five-of-a-kind, which is 20x and 30x your bet, and is ten times better than what the card symbols will give you. There is also a paying Wild, and you can get 1000 coins or 50x your bet if you land all five.
Bonus features
Free Spins Scatters only appear on reels 1, 3 and 5, and you need to land all three to enter the free spins game. You'll get up to 10 special free spins with the reels expanding up to twice their size and adding 10 paylines with each expansion. When all reels are six symbols high, you'll be playing a game with 50 paylines. All high value symbols and Wilds come in triple stacks during the free spins feature. This bonus feature has a certain variance to it, but it does seem a bit skinny even when you do manage to get the most out of it. The chances of getting a really big win aren't that much improved during this feature compared to the main game.
Diamond Rush Slots RTP
Diamond Rush slot only has theoretical return to player (RTP) of 94.55%, which is horrible, and it puts it in the same group as those old classic slots that come from a time with a much higher house edge than in modern times. This is a difficult slot game to win money on, and players will only want to play it because of its medium to high variance.
Conclusion
It's questionable if you should play Diamond Rush since it has RTP below 95%, but if you choose to play you'll have some fun with the two randomly triggered features and with the free spins game. This would be a decent title to pass the time if it has better RTP. But if you don't intend to take it seriously and if you don't intend to have a long playing session in which you're actually trying to win money, then Diamond Rush can be a fun way to spend a few hours. Who knows, maybe you do win big in the free spins game!
full list of Red Tiger Gaming games