Best Casino To Play This Slot for Real Money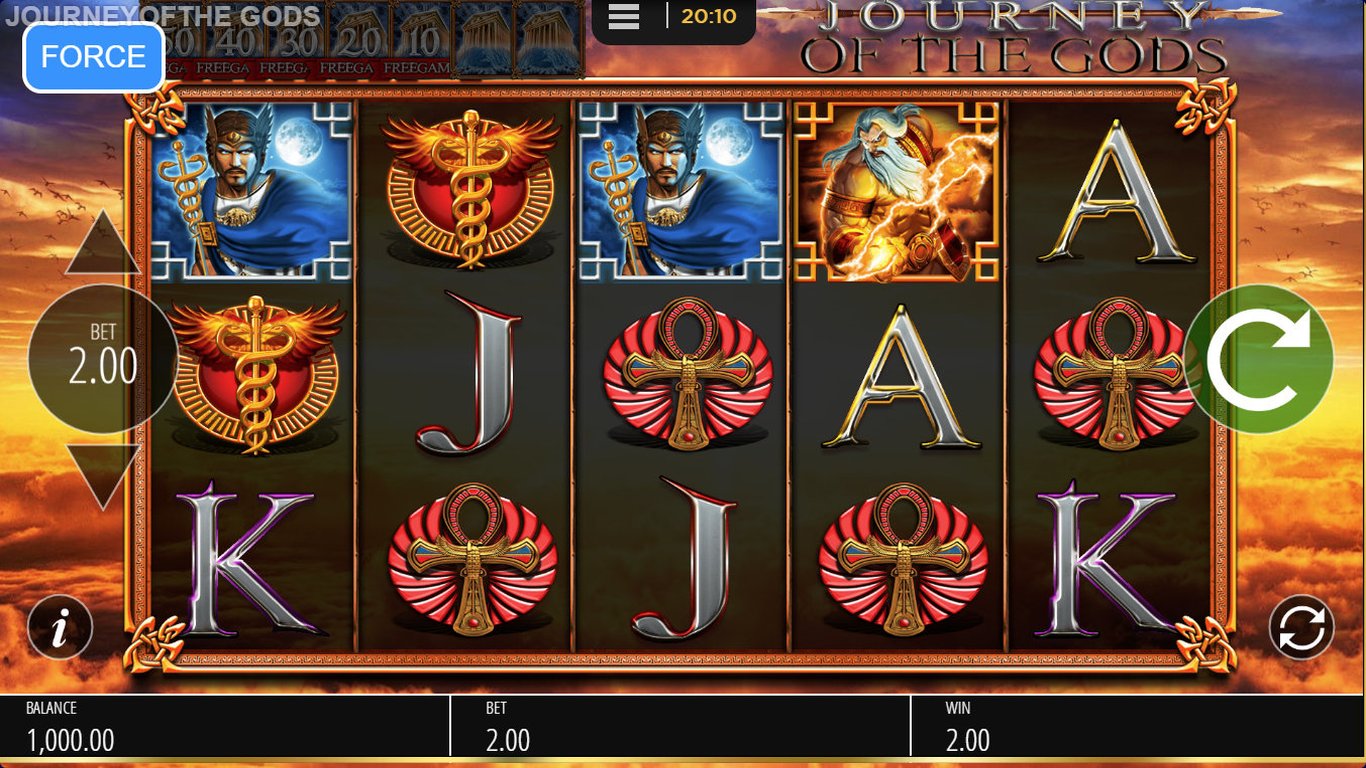 Rotate your device to start Play
Best Casinos to Play Journey of the Gods for Real Money :
Journey of the Gods uses a familiar theme though it doesn't really develop it in too much detail. Characters from the Greek mythology are the main cast in this game, but there's also an Ankh symbol from Egyptian mythology. I can't say this is an immersive theme after having played the game for a few hours, but it's more than good enough as a skin for a classic slot. All the symbols are beautifully drawn, so this game can appeal to both the classic slot players and to the modern players. Let's have a closer look at the pros and cons of this game.
Main game and paytable
The game is played on a 5×3 board with 10 fixed paylines. Theoretical return to player (RTP) of this game is listed as being between 93.77% and 95.75%, which means that this game doesn't pay all that well, and it's in the range which you'd expect for some older classic slots Players who usually play these slots won't mind, especially because Journey of the Gods has a very rewarding paytable.
The game uses ten symbols plus a Wild, and the prizes for the four card symbols start at getting your stake back for three-of-a-kind, and even with these card symbols you can win 12x your bet if you land five-of-a-kind. It gets a bit better with the next two symbols that can pay up to 20x your bet, and that's it for the low-win symbols. The four high-win symbols, all with a square background, pay 50x, 100x, 200x and 500x for five-of-a-kind, which is really great. Wins aren't common, of course, as with this kind of paytable you don't expect to win often. But the Wild can come to rescue often.
Bonus features
Every win triggers a cascade, and if you get 4 cascades you'll trigger the free spins game in which you can get up to 50 free spins. Whenever you land a win, the winning symbols will disappear, and new symbols will drop from above to fill your board. If another win is formed, the cascade will happen again, and you need to do this four times in succession, and then you'll trigger the free spins.
At the first level, if you only had four cascades, you'll get 10 free spins. For five, six, seven or eight cascades you'll win 20, 30, 40 and 50 free spins respectively. The top level is very difficult to reach as this game doesn't pay often, so consecutive wins on the same spin are a rare sight. However, the player doesn't really have much to look forward to as the free spins are simply spins that are free, with no extra feature. The best wins in this game will come from landing five high-win symbols, and this can happen anytime, you don't need free spins for that. The re-spins, or cascades, are actually much more valuable to the player.
Conclusion
Journey of the Gods is a high variance game that won't disappoint the classic slots players, though the free spins game is definitely not rewarding enough so there's an important aspect of the game that's missing. But you can win 500x your bet on any spin, and not only that you can form up to 10 winning paylines on a single spin, but there's a chance to win some more money with those cascades. It's a good classic slot with a beautiful theme, so there's no doubt that this is a quality game. The main appeal comes from the powerful symbols which are beautifully drawn, as after a few dozen spins you'll learn which symbols matter the most and they'll really make an impact when they land on your reels. This is the kind of experience you want from a classic slot, so Journey of the Gods deserves a good rating.
full list of Blueprint Gaming games