Best Casino To Play This Slot for Real Money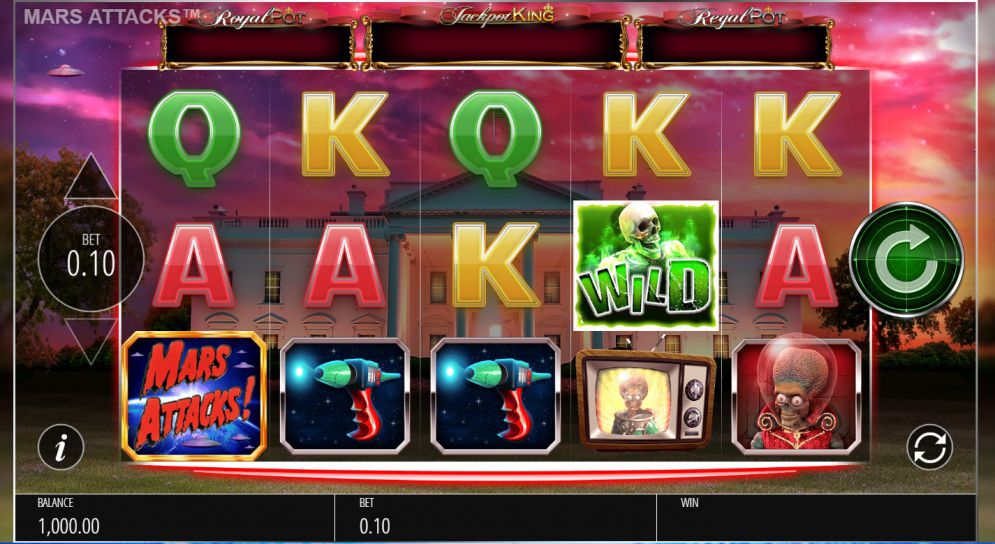 Rotate your device to start Play
Best Casinos to Play Mars Attacks! for Real Money :
I didn't like the 1996 movie but I played Mars Attacks! slot game anyway to see if it's any good, and I can tell you this is one interesting slot game. It has a progressive bonus round in which you can win one of five bonus features, there are five more modifiers that can get triggered on any main game spin, and there's also a Jackpot King progressive jackpot. Let's take a closer look at this game and see what are its pros and cons.
Main game and paytable
The game uses 20 paylines, and your bets can range from €0.10 to €200, as you actually pay 10 coins to play those 20 paylines, so a 10 coin win will get you your stake back. You'll get less than that in only one case, if you land three-of-a-kind of a card symbol, as you'll get either 8 or 4 coins back. The four card symbols can pay 50 or 100 coins for five-of-a-kind, which is 5x and 10x your bet respectively, which means the paytable is very generous.
It gets better with four high-win symbols as they pay 200 and 300 coins respectively, which is 20x and 30x your bet, so this is a game in which five-of-a-kind wins can bring you really nice wins. Four-of-a-kind wins aren't bad either, they range from 10 to 80 coins. In addition to these eight normal symbols, there is a Mars Attacks! Logo which pays super stacked and can bring you up to 500 coins. Wild is also a paying symbol, with a maximum prize of 500 coins, and there's a non-paying Scatter. In this game there are a lot of ways in which a player can win a prize of at least 30x total bet.
Five features can get triggered at random. Radiation Blaster will put Wilds on your reels, Mega Shrink Ray will shrink the reels and make your board have 3125 ways to win, Abduction Beam will take away symbols on the reels and will cascade a new reel set, Expansion Cannon will add a Mystery Symbol that spreads to nearby positions, and Sub-Zero Lazer will freeze the winning symbols and award a re-spin.
Bonus features
You enter the fun bonus game by landing at least three Scatters, and if you land four, then the lowest-paying feature Spy Hunter will be eliminated. If you land five you'll automatically be awarded the best feature, Final Stand. When the bonus round begins you'll choose one of five areas: Europe, Asia, Africa, Australia or Americas. UFOs will invade the area and you'll get one of five bonus features.
Spy Hunter is a pick-a-prize kind of bonus game. We Come In Peace is an upgraded version of this game in which you also collect wins and multipliers. DNA Analysis is a free spins game in which you'll get 5 free spins with Expanding DNA Wilds. Martian Takeover will give you 10 free spins with Roaming Wilds. Final Stand has unlimited free spins, with Humans and Martians each having their own progress bar, and when either side wins the feature ends. If Humans win, you'll be awarded an additional Big Money Boost to your final winnings.
In addition to these 10 bonus features, there's also a Jackpot King progressive jackpot that can be triggered on any spin.
Conclusion
Mars Attacks! is an excellent game for all fans of slots that have many bonus features. The game is very fun to play and you'll likely play it until you trigger each bonus feature at least once, and the game pays well, too. The theoretical return to player (RTP) is 96.44%, so there's absolutely no reason why anyone wouldn't want to have fun with this slot game. The game also has a chance of delivering a really big win, so there's something meaningful to look forward to, not only fun. The biggest win will come from the Final Stand bonus feature if the Humans win.
full list of Blueprint Gaming games