Best Casino To Play This Slot for Real Money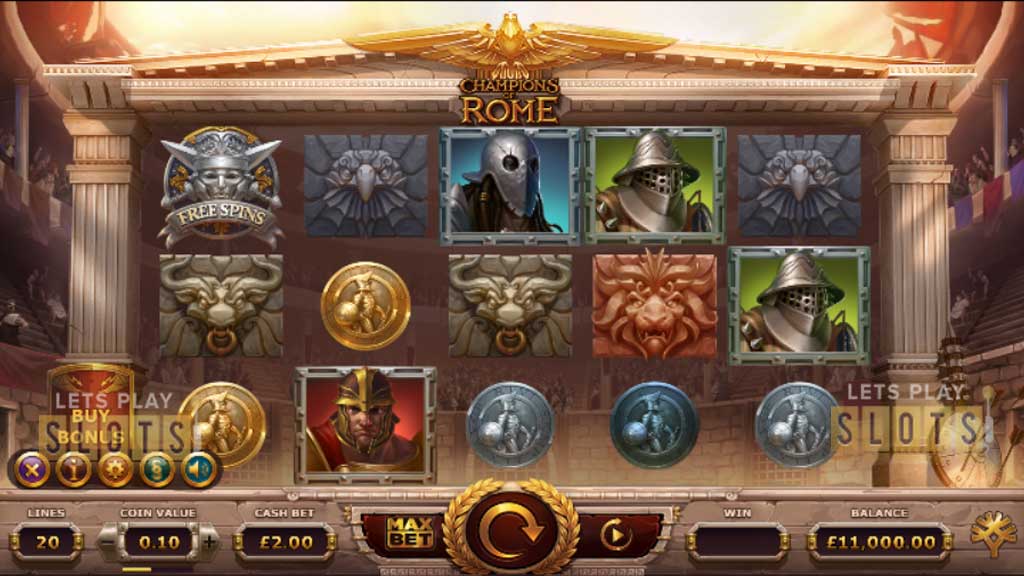 Rotate your device to start Play
Best Casinos to Play Champions of Rome for Real Money :
There's a strong possibility that if you try to make me miss the release of a new Yggdrasil Gaming slot, I'll be likely to hit you. Fortunately, nobody stood in my way when I got the chance to play Champions of Rome. This slot takes everything that we already know about Yggdrasil – the amazing graphics, the great themes, the intriguing inbuilt features – and throws more into the pot for us to enjoy. I can't remember the last time that I had such fun playing a slot game.
Main Game and Paytable
Champions of Rome has a standard video slot setup, consisting of five reels and three rows in total. Across this layout, the developer has chosen to add a collection of 20 paylines to bet on. These lines are fixed in position, but you can alter the wager that you place on them. This is done with the plus and minus buttons at the bottom of the reels to choose from coin values between €0.01 and €5. Selecting the highest amount will provide you with the chance to play a cash bet of €100 per spin.
The imagery within this slot is one of its finest features, taking you to a Roman gladiator arena. Upon the reels, you'll get to see various symbols, starting with those of circular shields in iron, bronze, silver and gold – all of which can multiply your wager by up to 30x. Then comes a set of animal statue carvings, beginning with the bull. Then there's the eagle and the lion. The three gladiators provide this slot with its highest paying standard symbols, awarding up to 1,200x your stake.
Bonus Features
There are so many bonus features in Champions of Rome, that I don't want to delay in explaining about them. First of all, if you manage to spin two of the game's free spins symbols into play during base gameplay, you'll trigger one of three Gladiator perks. There's the "Swords" feature, which adds wild symbols of 2×1 and 1×2 designs to the reels. The "Mace" perk adds 2×2 wilds to the reels, while the "Trident" feature adds four random wilds to the reels.
The game's free spins round is my favourite perk of Champions of Rome. You can either buy into this or spin three or more of the free spins scatter symbols into view. Two different free spins modes can be played, with you choosing which one you'd like. These are:
Training Mode. All of your free spins wins will be kept at the end of the round.
Deathmatch Mode. Win at least 450 coins during the free spins round to keep all of them, otherwise you lose them. Three different Deathmatch Mode options are available, featuring up to seven free spins or multipliers of up to 4x. If you don't manage to reach the 450 coins in Deathmatch Mode, then you'll get a consolation prize at the end of anywhere between 40-200 coins or 5 Training Mode Free Spins.
During free spins, the Beast gladiator can show up on reels two, three and four. All of the high-paying symbols in the round are replaced by one of the three hero gladiators. On each spin, the chosen gladiator will throw his weapon at the reels to award wild symbols. Additionally, if their weapon hits the Beast, an extra free spin is awarded to you.
Conclusion
It's true that the gladiator theme has been done before, as has the Ancient Rome theme. Yet, Yggdrasil Gaming still manages to make it feel fresh and exciting with Champions of Rome. I couldn't wait to play it and I'm still a huge fan of spinning the reels. The free spins rounds with included wild perks and potential for winning extra free spins throughout is truly thrilling and it's one that I'll be playing for a long time, I think.
full list of Yggdrasil Gaming games