Best Casino To Play This Slot for Real Money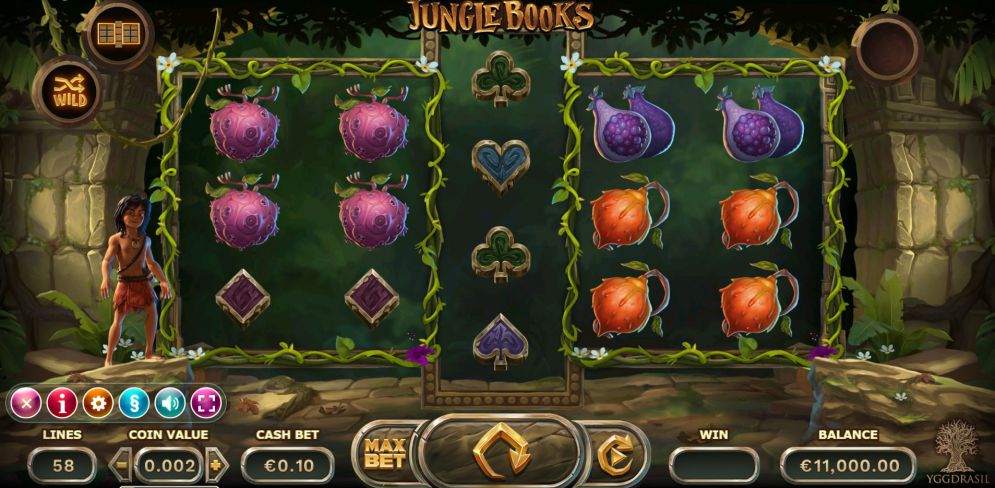 Rotate your device to start Play
Best Casinos to Play Jungle Books for Real Money :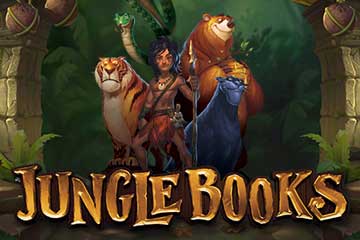 I have played this slot game several times since its release in late 2017, and went through all the details again to be able to give you an honest opinion about Jungle Books' pros and cons. This is a special game that does things in an innovative way, and most players will like it, but will first have to start thinking outside the box and will have to accept a change in traditional game mechanics. At the time of release, this was Yggdrasil's most ambitous project to date.
The game isn't officially licenced and, for example, doesn't say the titular character is Mowgli but he's called The Boy, but Rudyard Kipling fans will recognize all the characters from the Jungle Book.
Main game and paytable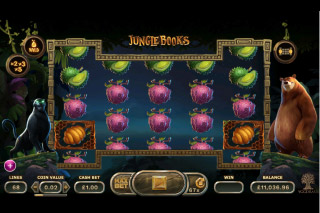 Yggdrasil really love to develop innovative slots, and this one does almost everything differently, starting with the reel set and the paylines. The game is played on a standard board, except that the middle reel has four symbols instead of three, for a total of 16 symbols instead of 15.
It gets a bit more complicated with the paylines. Initially there are 58 paylines, but there's a Win Both Ways feature that can be activated and that can double the number of paylines as they start paying from right to left as well as from left to right. Black Panther Realm has 68 paylines, and Snake Realm has double that number as it has 68 paylines that pay both ways.
There are four low-value card symbols in the paytable, and the five high-value symbols are, strangely enough, jungle fruits. It doesn't make much sense but it looks good in the theme, especially as the animals have a completely different purpose here. And it gets complex.
Bonus features
There are five characters that can appear beside your reels, and each will bring a unique set of features. If there's a single character, he'll give you two features, and if there are two characters then the other one will bring an additional feature and will act like a guest in the main character's realm. The characters come and go randomly, and the one on the left will be the host and the one on the right will be the guest.
Mowgli will bring Synced Reels and Spreading Wilds, where any Wild spreads to one or two more positions. Tiger will bring Sticky Respins where winning symbols will stick and Stacked Wilds. Bear will make a random symbol stacked on each spin and will add the Honeycomb symbol which can trigger a mini game in which you can win up to 50,000 coins. Panther will bring make Super High Pay symbols Wild and will assign a random multiplier of x2, x3 or x5 to random wins. Snake will make the game pay both ways and will assign a x3 win multiplier to Wilds.
Conclusion
Jungle Books offers an unrivaled number of special features, and includes almost everything you've ever seen in slots. As a result the paytable is skinny since the special features make the slot game infinitely more rewarding than a main game without them, and the two or three features may combine into a very high paying slot game. Theoretical return to player (RTP) is 96.10%, but there are realms that pay better and worse, and when you learn which combination is better, you may adjust your bet accordingly, though whenever you do so, the Guest in the realm leaves. Which isn't a bad thing if you want him to leave!
All in all, this is a fantastic slot game that breaks the mould, and everyone should play it at least once for a few hours, just to see what kind of marvels can be achieved when a developer is innovative. Spend some time to learn to play this slot game and you'll be rewarded with a lot of fun, possibly with a lot of money, too.
full list of Yggdrasil Gaming games