Best Casino To Play This Slot for Real Money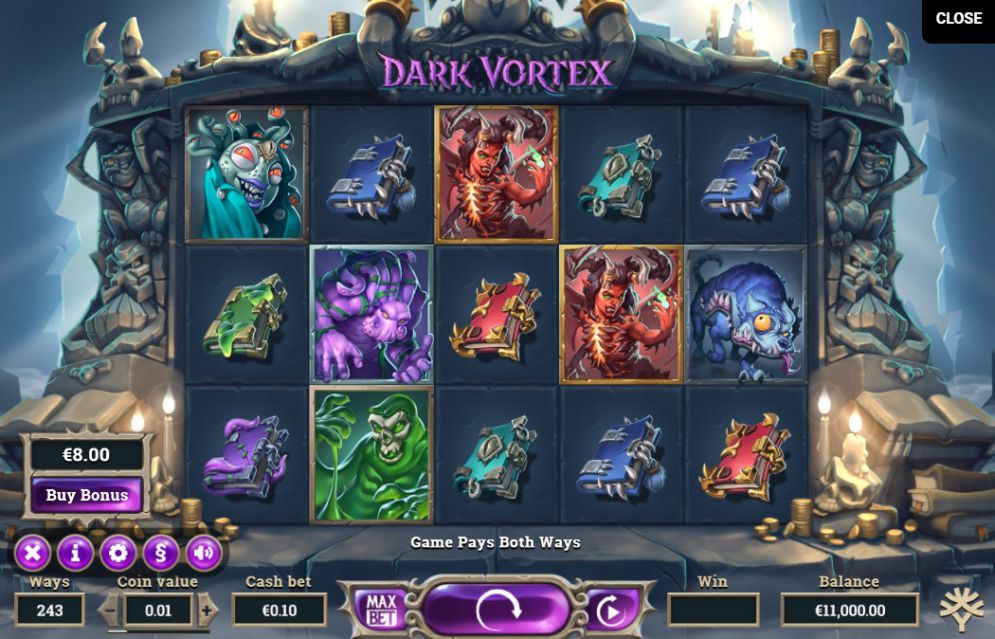 Rotate your device to start Play
Best Casinos to Play Dark Vortex for Real Money :
I have played Dark Vortex for a few hours in order to experience all aspects of its complex gameplay, and I quite liked the slot so let me share what I think about it in more detail. This is a fantasy themed slot with graphics that don't really look that great, but the game is fun to play and it can get rewarding during the bonus rounds.
Main game and paytable
The game is played on a 5×3 board, which is standard and everyone will expect a standard payline setup, but this game uses a Win All Ways game mechanics. This means there are actually 486 paylines here, since there are 243 paylines that pay both ways. The five-of-a-kind paylines,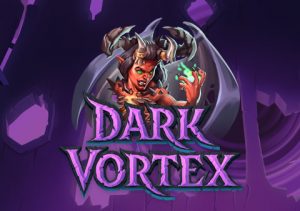 of course, overlap, and so you'll only win once and not twice. If you land a full board win, you will also only win once on every possible payline and not twice. During normal play, you'll see how fun it is to win from left to right and from right to left, it produces many wins which you normally wouldn't expect and it changes your entire perspective on a slot game. You pay 10 coins for each spin, and the lowest coin value is €0.01 so the minimum bet per spin is €0.10. The maximum is €50.
The paytable consists of ten symbols, and they are divided into two groups of five. The low-paying Book symbols will pay from 7 to 12 coins for five-of-a-kind while the five Monsters will pay from 30 to 60 coins, with more than decent prizes for four- and even three-of-a-kind. This makes the paytable quite balanced, and you know that any Monster win, even if you only land three, will get you some coins. Books only have the potential of giving you your stake back.
Bonus features
The main thing about this game, other than the 486 ways to win, is the Vortex feature. When you land two Vortex symbols on adjacent reels, you'll open two Vortex Reels for 3 spins. With each additional adjacent Vortex symbol, you'll get 2 more Vortex spins. As you land these extra Vortex symbols the Vortex Reels will expand, and it's your goal to make all five reels Vortex Reels before you run out of Vortex Spins.
When that happens, you'll trigger the free spins game. During that feature you'll be collecting Pink Orbs to increase the Wild Stacks size, and Blue Orbs to increase the number of free spins. Pink Orbs only appear on reels 1 and 5, while Blue Orbs appear on three middle reels. Wild also appears on middle three reels. This free spins game is very complex, and it can end up with Stacked Wilds, stacked high pay symbols and 3125 ways to win.
The Buy Bonus feature is a special separate game in which you actually pay to enter free spins. You'll pay 800 coins – equivalent of 80 spins in the main game – and will first pick one of five cards to determine a Wild stack size, and will then pick one of five cards to determine the number of free spins – 5, 6, 7, 10 or 20. This feature is only available when there are no Vortex Reels open and when the total bet is less than €1.
Theoretical return to player (RTP) is 97.00% when you use the Buy Bonus feature, and 96.50% during the normal game. Buying free spins can burn through your bankroll quickly.
Conclusion
Dark Vortex is an innovative slot with complex gameplay, and that's what we expect from Yggdrasil. It's not for everyone as some people will like the gameplay and some will not, so the best way to find out which group you belong to is to just start playing for free and then for real money.
full list of Yggdrasil Gaming games