Best Casino To Play This Slot for Real Money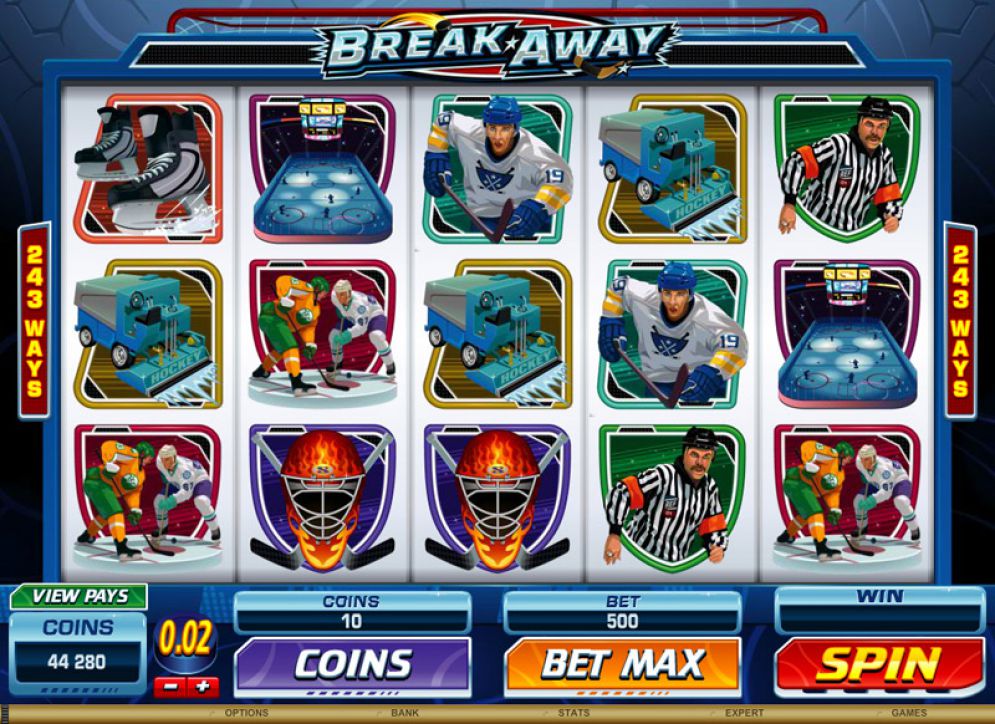 Rotate your device to start Play
Best Casinos to Play Break Away for Real Money :
Break Away is a member of the Sports Star group of slots by Microgaming, and I have played the game for about two hours in order to be able to give you an honest review of this slot machine after identifying its pros and cons. The thing I liked the most is that it uses 243 paylines, which makes any adjacent symbol win, and the main game has an interesting Rolling Reels feature. That makes the game fun to play.
Theoretical return to player is 96.42%, good enough for almost every player, and variance seems to be a bit high. While the player is entertained by the Rolling Reels feature in the main game, the wait for those three Scatters can be a long one. But it's definitely worth it as in the free spins game you can get up to x10 win multiplier and win up to 240,000 coins.
Main game and paytable
The main thing about this slot machine is the Rolling Reels feature which is active during the main game. Whenever you land a win, the winning symbols will collapse in order to be replaced by new ones and this can go on indefinitely for as long as new winning combination is formed. Wild symbols collapse like the other symbols, but you'll get a new Wild in the old one's place. This is essentially a falling blocks game, and is one of better such games. Rolling Reels feature is so popular that Microgaming use it in many different titles.
Randomly, a hockey player may appear on your board and he'll make one entire reel Wild. This is called the Smashing Wild feature. This is yet another addition to the main game that makes it more interesting, and gives you a chance of landing a nice win. Rolling Reels are deactivated during this spin with the Wild reel.
The game uses all possible symbols that can depict an ice hockey game, and you'll see players, referees, goalie masks and pucks all over the place. Graphics are excellent, and although all symbols have artwork it's easy to distinguish between low- and high-value symbols. Colorful graphics really add a lot to the theme, the game is as fun to watch as it is to play. There are nine symbols total, in a pretty much balanced paytable. Animations are impressive too, especially the Smashing Wild feature in which a hockey player breaks the ice with his stick.
Bonus features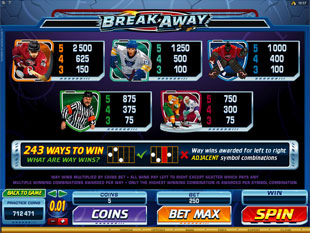 This game certainly doesn't disappoint as not only that it has falling blocks mechanics in the main game, plus a random Wild reel here and there, but it also has a free spins game with increasing multipliers! You'll get 15, 20 or 25 free spins for three, four or five Scatters respectively, and Rolling Reels feature is active, too. After each win during the Rolling Reels feature the win multiplier will increase, up to a x10 multiplier if you land five wins in a row. This can, of course, be extremely rewarding, and the feature is worth the long wait.
Conclusion
Break Away is a balanced slot machine that satisfies the player during the main game and during the free spins game. The main game is interesting to play, can be rewarding in itself, and then there's that extremely rewarding free spins game with multipliers to look forward to, that will come around only once in a while. Add to this a great looking ice hockey theme, and you got a winner. This is one excellent slot game by Microgaming and should be played not only by ice hockey fans but by everyone who appreciates a quality slot game.
full list of Microgaming games