Best Casino To Play This Slot for Real Money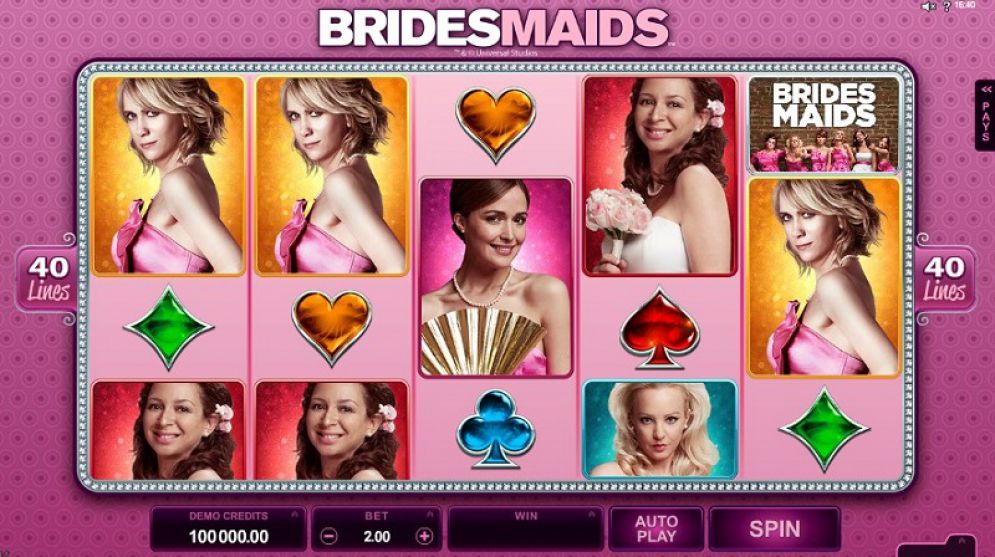 Rotate your device to start Play
Best Casinos to Play Bridesmaids for Real Money :
As a fan of the Bridesmaids movie I just had to play this slot game, and after playing it for a while I can give you my opinion on it. First of all, all the important elements from the movie are here and the game feels like a natural addition to the movie watching experience. The slot game was released four years after the movie, in 2015, soon after it became obvious the movie got a cult following.
The game uses a large 5×4 board so it can better accomodate symbols that are two rows high, and there are 40 paylines which pay left to right but during one of four bonus games the 40 paylines pay both ways. This is one rewarding slot game in which a lot of cash can be won, and it can be won in many different ways – in the main game, in one of two free spins games, in one of two bonus games, or you can win the jackpot on the Bonus Wheel.
Theoretical return to player (RTP) is 96.71%, a very good number that will appeal even to the very demanding players when it comes to theoretical payout. That's really a lot for an officially licenced slot. There are four different bonus features in this game, so it's both fun and pays well, and has a great theme, so overall it makes for a great experience.
Main game and paytable
Three bridesmaides – Lillian, Annie and Helen – are the main cast of this slot machine and also the three best-paying symbols. These three characters always appear as symbols that are two rows high. The supporting cast – Megan, Rita and Becca – are normal symbols and they pay a bit less than the bridesmaids. Four card symbols complete the paytable and again, they pay a decent prize, making this paytable very balanced. There is also a Scatter and a Wild, and Wilds can be stacked, which can lead to some multiple winning paylines.
You'll see the actual actresses in this slot game, Kristen Wiig, Rose Byrne and the others, and this slot is very immersive. Guys probably won't like the pink color that dominates this slot game, but that does serve a comedic purpose. This slot game has excellent graphics and this is how movie themed slots are supposed to look and play like.
Bonus features
You need to land three, four or five Cupcake Scatter symbols in order to trigger the bonus round, and you'll also get a cash prize to go with it. When the bonus round is triggered you'll first get to spin the Bonus Wheel in which you can then win one of four bonus games, and two of these are free spins games. You can also win a cash prize or a jackpot.
Friendship Free Spins will give you 10 free spins and the paylines will pay both ways, for a total of 80 paylines instead of 40. The game also gives you stacked symbols and some additional Wilds, so it can be a rewarding experience. Flying High Free Spins also gives you 10 free spins but Rolling Reels can bring you big wins. There are also Growing Wilds stacks that increase by 1 after each spin.
Boutique Bonus will let you match bridesmaids to win cash prizes and win multipliers, and in Magic Moments Bonus you'll get to pick up to 10 magic moments to win cash prizes. This is where you'll get to see some funny cutscenes from the 2011 movie so it's imperative to play this feature at least a few times during your playing session.
Conclusion
The Microgaming slot machine does a good job with depicting the girls comedy from 2011, and you'll probably want to watch the movie again after playing this slot. The cutscenes during one of the four bonus features are a particular treat, and the other three bonus games can be very rewarding. All in all, playing Bridesmaids is a very fun experience that's recommended to all players.
full list of Microgaming games