Best Casino To Play This Slot for Real Money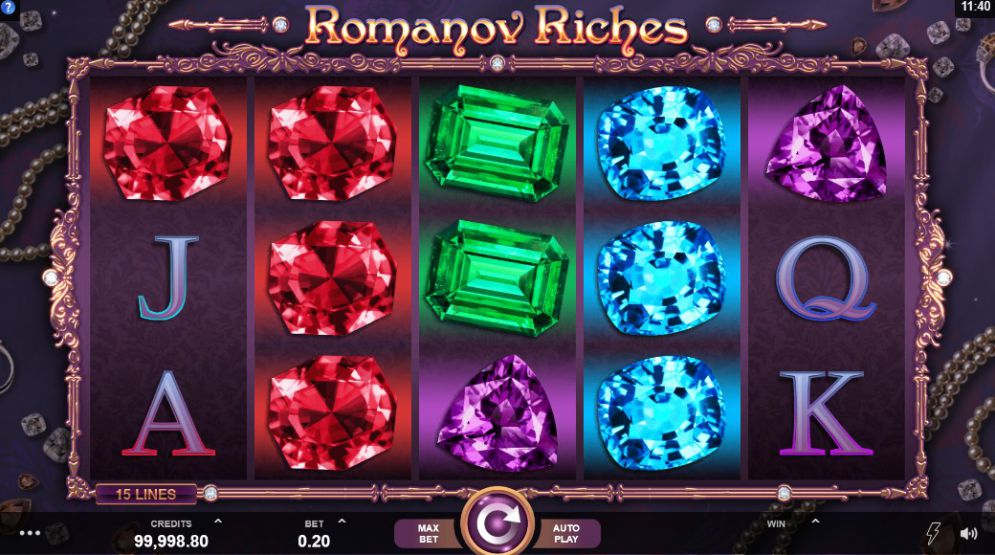 Rotate your device to start Play
Best Casinos to Play Romanov Riches for Real Money :
Romanov Riches is more or less a classic slot, it plays like one, at least that's what I conclude after having played it for an hour or so. Let's cover all the details of this Microgaming release and then finally decide if this is a good slot to play or not.
Theoretical return to player (RTP) is 96.08%, which is good enough and is in line with modern standards, so this game is expected to pay well. Variance is medium and the game feels easy to play. Wins are common enough and they're not smaller than your bet or something, and there's still a chance to get a big win.
Main game and paytable
The game is played on a 5×3 board with 15 paylines, and interestingly enough, the game makes you pay 20 coins for 15 paylines. Most of the symbols in the game are various gems, so players who are inclined to play gem slots might care to play this one even if it doesn't have anything in common with your standard gem slot. There are nine symbols in the paytable, and five of these are low-value card symbols and the four high-win symbols are Gems of different colors. Two Gems, Green and Blue, are the superior symbols in this game as they carry a prize of 128 coins for five-of-a-kind, and the other two Gems, Purple and Red, each pay only 40 coins, which is a big difference of more than 3x between the two groups. There are two card symbols that pay similar to the lower Gems and the remaining three card symbols are practically worthless. It's good to have two symbols that can issue a prize bigger than all other symbols, since the game does help you get multiple winning paylines, perhaps even a full board of the same symbol.
Bonus features
Whenever you land at least two full reels of the same symbol, starting with reel 1, you'll trigger a re-spin. The stacks of symbols that triggered the feature, between two and four reels, will be locked and the remaining reels will re-spin. They will have mystery symbols on them and those symbols will all match the triggering symbol. This feature is guiding you towards a full board win, and to get it started you just need to land six of the same symbol on reels 1 and 2. Wild symbols can help with this. The win will never be something incredible as there are only 15 paylines so the maximum possible win if we're talking about the best-paying symbol is 1920 coins.
Full reels of Bonus symbols will trigger the bonus feature in which you get to spin the wheels. Just like in the re-spin feature, here also the stacks must begin with reel 1. If you land three stacks you'll get to play one bonus wheel, if you land four stacks you'll get to spin two bonus wheels, and finally if you land all five stacks of Bonus symbols you'll be presented with three bonus wheels. The first two wheels award cash prizes, and the third reel is a multiplier of the total results of wins scored on the first two wheels. This can get quite rewarding.
Conclusion
Romanov Riches is a game which is a bit different than most, and the most important thing here is to land those full reel stacks of the same symbol, whether it's a normal symbol or a Bonus symbol, and these stacks must begin with reel 1 and should span at least across two or three adjacent reels. That's how you access the bonus features. If you like this kind of game mechanics then you'll love the game, and if you don't then it's probably best to stay away.
full list of Microgaming games