Best Casino To Play This Slot for Real Money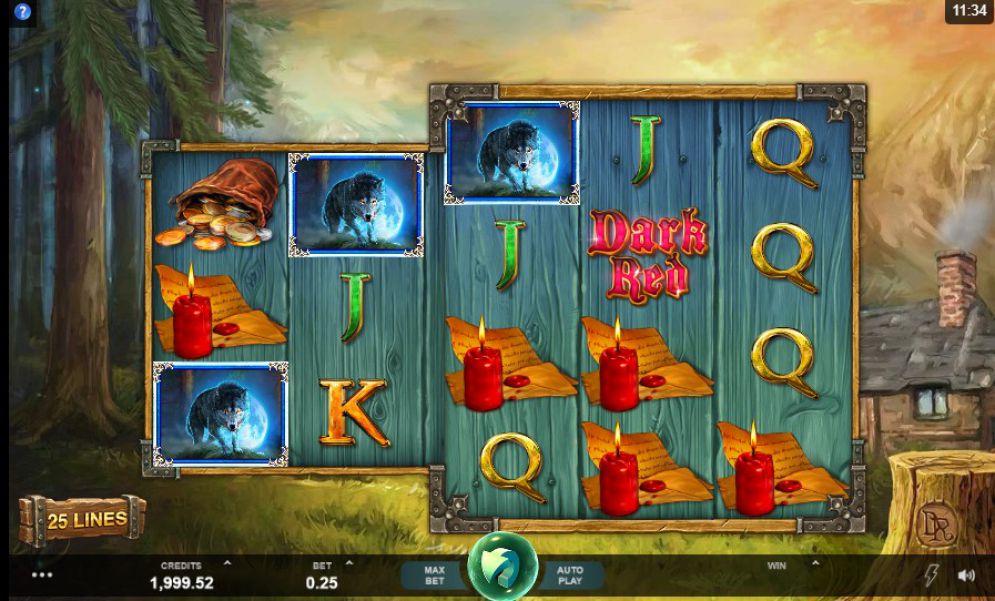 Rotate your device to start Play
Best Casinos to Play Wicked Tales: Dark Red for Real Money :
Wicked Tales: Dark Red is a Microgaming release from September 2018, and it's one of more modern Microgaming slots, and yet another addition to the fairytale genre and to the list of games that depict Little Red Riding Hood. In this particular game the Little Red Riding Hood is no longer that little, and the game is a bit darker than the children's tale. I have played this game a lot since its release so I'll give you an honest opinion about it.
Main game and paytable
The game is played on a board that's a bit out of the ordinary, and the board has three symbols more than a typical 5×3 board. Reels 1 and 5 only have three symbols each, while the middle three reels are four symbols high. At least that's what you see on your first spin, as on other spins the 4×3 giant area will move randomly from side to side. In all cases, regardless of the position of the 4×3 area, there will be 25 paylines in this game. This is a very interesting and unique setup by Microgaming. The 4×3 area exists in order to be able to display giant 4×3 symbols.
The four main symbols – Red Riding Hood, Hunter, Wold and Pendant – can all appear as giant symbols, and that's when you see how great the graphics are in this game even if the rest of the game mostly feels a bit dated despite the 2018 release. In addition to these symbols there are six more low-value symbols, and four of these are depicted by card symbols. The best possible prize for five-of-a-kind in this paytable is 20x your bet, most of other symbols pay between 2x and 6x, and in this game you can't make money unless you land at least a four-of-a-kind of the high-win symbol. Prizes for three-of-a-kind are insignificant.
Theoretical return to player (RTP) is 96.10%, which is good enough and is the average value you'll see in modern releases, and the game feels rewarding enough. The Wandering Reels keep you interested in the game as you anticipate those giant symbols, and the bonus features are even more fun.
Bonus features
Three Moon Scatters trigger the Wolf's Wheel Bonus in which it's guaranteed to trigger a bonus feature. You will be collecting cash prizes until Free Spins or Forest of Fortunes bonus games are won.
The Forest of Fortunes bonus game will let you choose bags that contain different cash prizes, an Axe or a Wolf. Cash prize is combined with the current multiplier, and each time you collect a cash prize the multiplier increases by 1. If you find all 10 cash prizes you'll win an additional 20x win. Wolf will give you a 1x win and will end the game, and Axe will do the opposite, it will give you an extra life. This feature can get quite rewarding if you find all 10 cash prizes, as at that point you'll get a 20x win as well as those big wins with a big win multiplier.
The free spins game consists of 9 free spins, and it can be triggered by landing the wheel on one of four high-value symbols. That symbol will replace all other high-win symbols during the free spins game, and it's in your best interest that this is the Red Riding Hood. Everything else is the same as in the main game, but this special feature can prove to be incredibly rewarding.
Conclusion
Wicked Tales: Dark Red is one of the most modern Microgaming slots, and while you can't mistake this game for a title by some other developer, it has plenty of additional features that create all the fun, and the theme is excellent. This is a well-rounded release that deserves more than a few spins, and one of the blockbusters of 2018.
full list of Microgaming games